Philly's Sixers beat Hawks; Shake Milton Shines & Embiid scores 40.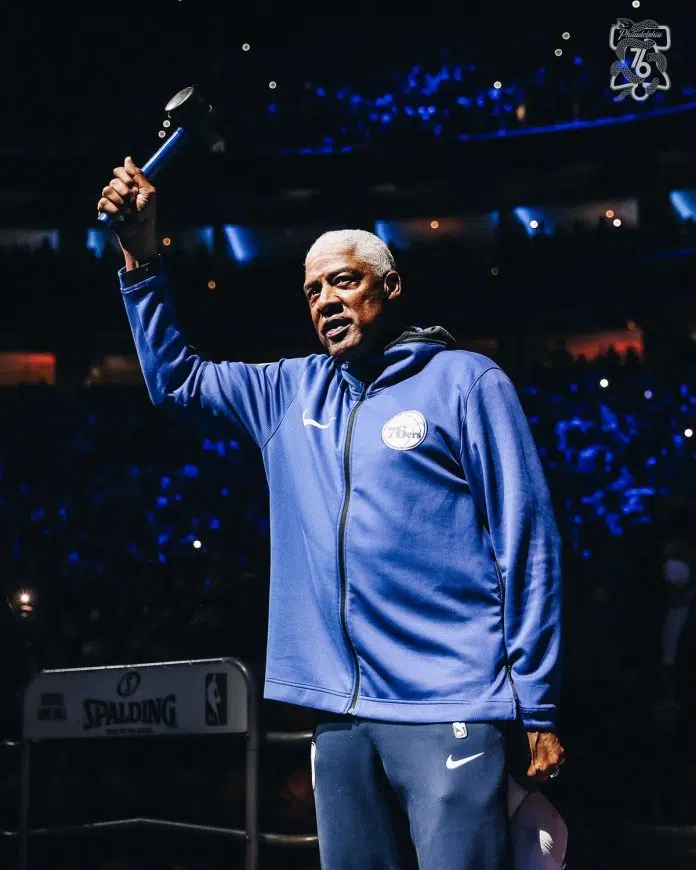 Sixers Beat Hawks-118-102
The NBA Eastern Conference Playoffs continues with Round 2, Game 2 Sixers-Hawks. Julius Irving rings the bell. The legendary touch may have sparked some new found energy. Because, Once again, Philadelphia has won against their opponents. Philly's 76ers regained momentum and were explosive over the Atlanta Hawks. Shake Milton's performance provided additional support. Embiid scores a career high 40 points. Embiid, Seth Curry and Tobias Harris combined for 83 points.
Ultimately, Sixers beat Hawks, 118-102.
What a beautiful sequence of basketball. pic.twitter.com/KtPKsBK9QK

— Philadelphia 76ers (@sixers) June 9, 2021
Shake Milton provides a much needed boost for the Sixers; beat Hawks.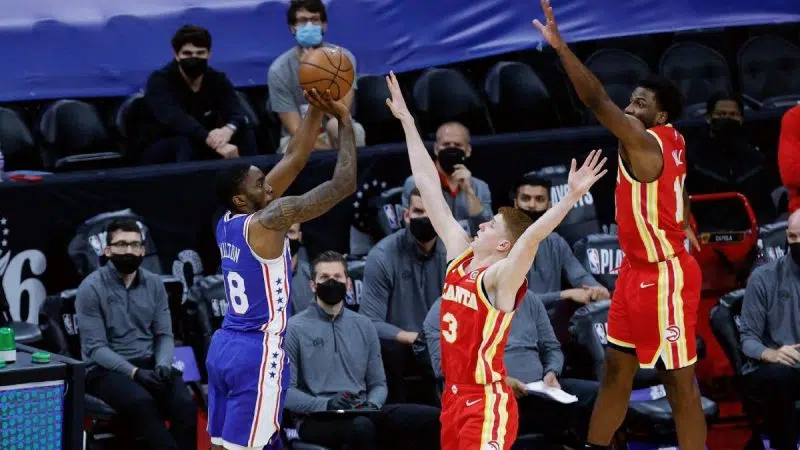 It looks like Shake Milton became useful again. Milton scored 14 points in 14 minutes. Point Guard, Shake Milton made two three-pointers in the third quarter, including the first points on the board that game by a bench reserve. Ultimately, his energy was also contagious and led to an increase in productivity among his teammates.
https://t.co/bl5wvDwkd6 pic.twitter.com/2d88KP6fUR

— Philadelphia 76ers (@sixers) June 9, 2021
After the game, Embiid talked about possibly needing Shake Milton to push the game further,
"For some reason, I felt like he was going to be needed. So, before the game I told him to get ready. I love all these guys and he's one of them. I believe in all of them. I want to win it all and I'm going to need them to do so."
Below, Embiid supports his teammates Milton and Howard. Needless to say, a team effort is the way to go for the Sixer's success to beat Hawks.
Here's the mic'd up version of Embiid supporting Shake & Dwight: pic.twitter.com/7EXNSBhddM

— Harrison Grimm (@Harrison_Grimm) June 9, 2021
Apparently, he wasn't the only one who thought so. Below, Doc Rivers spoke to the team urging them all to stay ready.
"I said, 'This is a long run, man. If we do this right, then everyone's going to get a shot. And stay ready.'"
Embiid scores a career high 40 points with injury
Joel Embiid is all heart out there. Just saying, If Embiid is this good while dealing with an injury; then, he will be an absolute beast once he's all healed up. Although, he didn't win the MVP title, he didn't let it sour his performance during the Hawks' series. Joel's performance has been standout and getting better all the time. Embiid averaged 39.5 points and 11 rebounds in this series. Fingers Crossed,  that he remains relatively healthy and doesn't let his ambition put his injury at further risk. Shockingly, Joel Embiid is the first 76er who has reached 40 points in a game since Allen Iverson. Needless to say, Philly loves a competitve beast and Embiid may be the most loved since A.I.
Eastern Conference Playoffs: Sixers by the numbers
Ultimately, the Sixers have made more than half of their shots from the field in five of their seven playoff games. Moreover, Embiid and Harris have equally shot 80% or better. While, Embiid and Seth Curry have combined to shoot 33-for-54 (61%) from mid-range. In fact, Embiid has increased his career high to 40 points and leading the Sixers to beat the Hawks.
Dwight Howard says "Clap Your Hands, Everybody!" 'cause there "Ain't No Stopping Us Now.
Howard says he's a fan of the Sixer's theme song. And, how can he not be? The song is catchy and feel good. After a great win, the song produces celebratory smiles. Dwight is all of us. The ballplayer says when he's at home, he finds himself singing it. "10-9-8-76ers!"
On Friday, Dwight Howard explained that he loves the #Sixers #HereTheyCome theme song. He also said he would love if 76ers fans also bring back McFadden & Whitehead's "Ain't No Stoppin' Us Now."

Game 1 — 76ers-Hawks — 1pm pic.twitter.com/PtwkbQcSfD

— Dave Uram (@MrUram) June 6, 2021