Actor Sean Penn and CORE have launched IT'S TIME LOS ANGELES, a campaign to raise vaccine awareness and distribute vaccines to underserved communities of Latino, Black, Asian American, and Pacific Islander backgrounds.
IT'S TIME LOS ANGELES is a campaign created by AEM (American Entertainment Marketing), a multicultural marketing firm based in LA. The goal of this multiplatform initiative is to boost vaccination rates in the city's vulnerable and hard-to-reach communities.
Recently, California expanded vaccine eligibility to individuals aged 16 and above. In response, CORE launched the IT'S TIME LOS ANGELES campaign to address potential confusion and misinformation surrounding vaccine access. This multicultural and multilingual initiative aims to connect and empower people of color by providing accurate information about life-saving vaccinations. The campaign includes various resources such as mass vaccination sites, walk-up sites, and mobile units, ensuring a fair distribution of vaccines. It encompasses public service announcements, digital and social media, a microsite, public relations, and community outreach. The campaign will reach diverse communities, offering information in English, Spanish, Mandarin, Korean, and Vietnamese.
"We have been working closely with the City of Los Angeles and LAFD since the start of the pandemic to protect the people of Los Angeles from the impact of COVID-19," said Ann Lee, Co-Founder and CEO of CORE. "Our teams are embedded in diverse communities across LA, breaking down barriers of trust, culture, language, technology, and transportation to provide the relief needed. Our main goal is to ensure vaccines are distributed equitably, and often the biggest obstacle is access to information. We are committed to leveraging existing community infrastructure and trusted leaders to overcome this challenge. With IT'S TIME LOS ANGELES, we are thrilled to unite a strong alliance of community experts to lead this collaborative and inclusive initiative."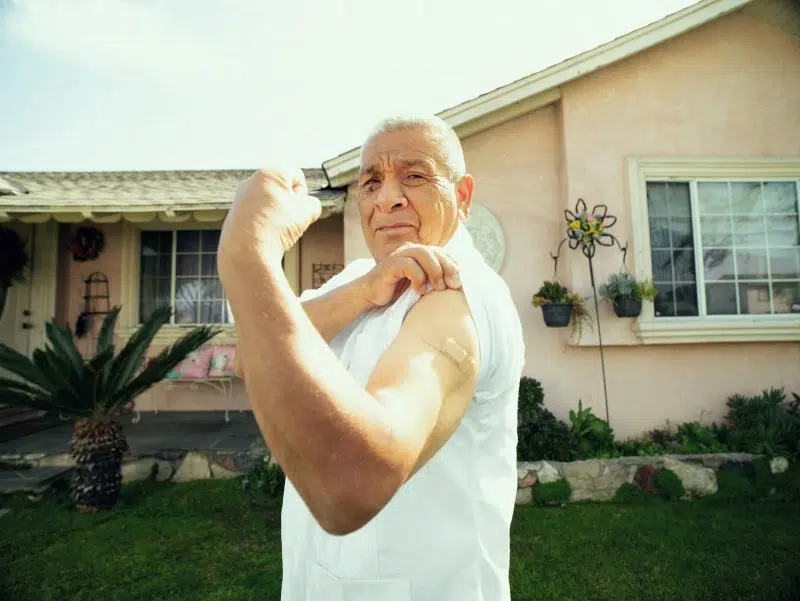 "As more Californians become eligible, CORE takes on the responsibility of ensuring access for the most vulnerable. Through IT'S TIME LOS ANGELES, we aim to raise awareness and empower community members to make informed decisions about vaccination. Our goal is to provide easy access to marginalized communities throughout the city."
By introducing IT'S TIME LOS ANGELES, CORE and AEM have united influential multicultural leaders and community organizations to spread awareness about the importance of vaccination. They are focusing on culturally relevant online and grassroots platforms to educate people in their own languages.
"We are a team of strategists who have united to serve our communities. We come from different backgrounds and understand the difficulties our communities have faced. We believe that creating a better and stronger LA requires strength, unity, and working together," stated Ivette Rodriguez, Founder and President of AEM. "We value CORE's acknowledgment that connecting with our communities effectively necessitates an approach grounded in empathy and inclusiveness."
"The African American Community has been greatly affected by this global pandemic and has not received the necessary support to overcome this devastating disease," stated Danny J. Bakewell, Sr., chairman of Bakewell Media (Los Angeles Sentinel & LAWT) / Founder/Creator of Taste of Soul. "However, we will overcome and persevere. It starts with getting vaccinated. We understand the hesitation and mistrust due to past experiences, but now is the time to prioritize our health and recovery. I've been vaccinated, my family has been vaccinated, and I urge everyone to take the opportunity to get vaccinated as soon as possible. It's the crucial step towards our community's healing and long-term well-being."
Many Latinos are reluctant to receive a COVID-19 vaccine due to fear, skepticism, and lack of trust within their communities. CORE understands the importance of trusted community messengers in educating and raising awareness in the battle against the pandemic.
During the COVID-19 pandemic, immigrants, particularly the elderly, Spanish-speaking communities, indigenous groups, and recent arrivals, have faced numerous challenges. These challenges include limited access to prevention education, healthcare, relief, and vaccines. It is crucial for everyone to come together and ensure that every family member, friend, coworker, and neighbor in Los Angeles is well-informed, receives timely healthcare if needed, and gets vaccinated. Getting vaccinated saves lives, and it is important to remember that your immigration status does not affect your eligibility for vaccination. Angelica Salas, CHIRLA executive director, emphasizes the importance of this message.
Asian Americans Advancing Justice – LA, the leading organization for Asian American and Pacific Islander rights, is actively working to ensure equal access to vaccines. They are also addressing vaccine hesitancy within LA's diverse AAPI communities. Connie Chung Joe, CEO of AAAJ-LA, emphasizes the need to prioritize community members who are often overlooked. This includes limited English proficient immigrants, seniors facing technology barriers, and Native Hawaiian and Pacific Islanders who have been disproportionately affected by COVID-related deaths. This initiative focuses on overcoming these challenges and promoting equitable vaccine distribution for all.