Phillies offense blows up on the Cubs, leading to a 17-8 victory
The bats have woken up in Philadelphia. Phillies offense made a dent against the Cubs scoring a 17-8 victory.  Of course, the Phillies managed to destroy that 7 run deficit as if runs like that didn't steal games. Writing their own story by claiming this 17-8 victory with grandstanding showoff confidence. And in doing so, they managed to climb closer in the NL East Wild Card race. Yet, the game wasn't going their direction in the start. Let's look at Phillies-Cubs piece by piece to put together how we arrived at a 17-8 win.
Third Inning Struggles
During the third, J.D. Hammer loaded the bases and hit Ian Happ to force a run in. Then, one by one the bases were cleared. In that same inning, the Cubs managed to accumulate 7 of their 8 runs. It was clear that Hammer didn't not have control of the ball. Whether it was because of the new rules on sticky substances or a mental block, one thing was clear, Hammer was struggling.
The Phillies answer back in the Fourth
In the fourth, the Phil's began to answer back.    Now, there's a man on second and third with 2 outs for the Phillies. Andrew McCutchen steps to the plate and lobs the ball over Alphonso Rivas who was unable to get to it. Thus, scoring Bryce Harper and J.T. Realmuto. Finally, they are on the board with 2 runs (7-2 Cubs). Moving along, Hendricks manages the load the bases. Then, as luck will have it he walks Matt Joyce forcing in a run (7-3 Cubs). Accordingly, Odubel Herrera (yes. Unfortunately he's still on the lineup) scores a run (7-4 Cubs). And, the bases remain loaded. Jean Segura hits a run in (7-5 Cubs) but they gain an out. Yet again, Hendricks walks a player, Bryce Harper, to load the bases. J.T. Realmuto hits one into center and manages 2 runs to tie the game at 7.
Just kept chipping away. pic.twitter.com/mMmMtPZaNE

— Philadelphia Phillies (@Phillies) September 17, 2021
6th inning and a Phillies Lead
Not satisfied with just a tie, Harper gets us a lead (8-7 Phillies). Didi Gregorious scores 2 bringing our lead to 10-7. Didi's offensive game has been struggling so it is great to see him be productive here.
.314/.428/.627 slash line.

MLB leader in OPS. 12-game hitting streak.

Bryce Harper is on another level.#CarryTheFreight pic.twitter.com/IX4WVMfRrE

— Philadelphia Phillies (@Phillies) September 17, 2021
7th-8th inning Magic, 17-8 victory
Unfortunately, the Cubs managed to tack on another run here. Hector Neris pitches and gives up a homerun to Contreras (10-8 Phillies). Luckily, that is all they'll get as the Phillies shut down the Cubs offense and brought up theirs. Bottom of the 7th, and two more make it across the plate (Galvis, Veirling; 12-8 phillies). If that wasn't enough for you, Bryce Harper hits a 3-run homerun to the second deck of center field giving us a score of 15-8.
BRYCE.

HARPER.#RingTheBell pic.twitter.com/5d4U8QO6S9

— Philadelphia Phillies (@Phillies) September 17, 2021
Finally, in the eighth, and clutch as always,  Segura singles giving us 2 more runs with a 17-8 victory  Wow, what a game!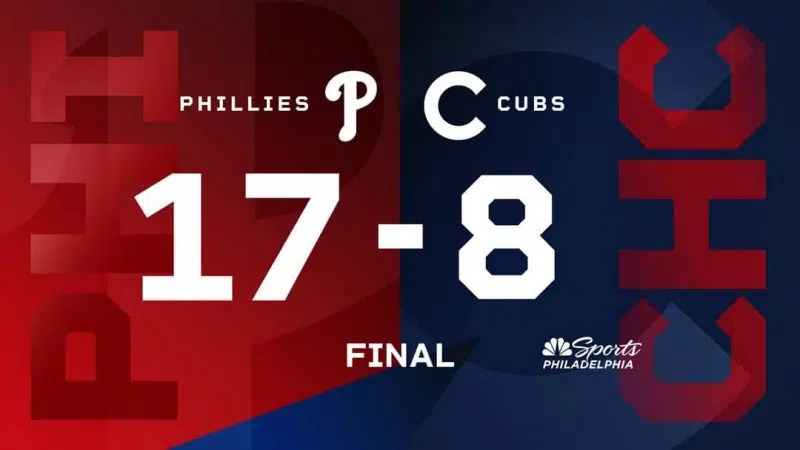 Is Bryce Harper the MVP?
Of those runs, Bryce Harper was responsible for four RBIs. Overall, he went 3 for 4 with 2 doubles, 1 homerun and 2 walks. Harper who has been heating up as of late, has led fans to chant M-V-P. And while he has been doing great, it leads to discussions of whether he qualifies as MVP given his entire performance of the 2021 season. Initially Bryce struggled with his hitting and was out for a chunk of time due to injuries.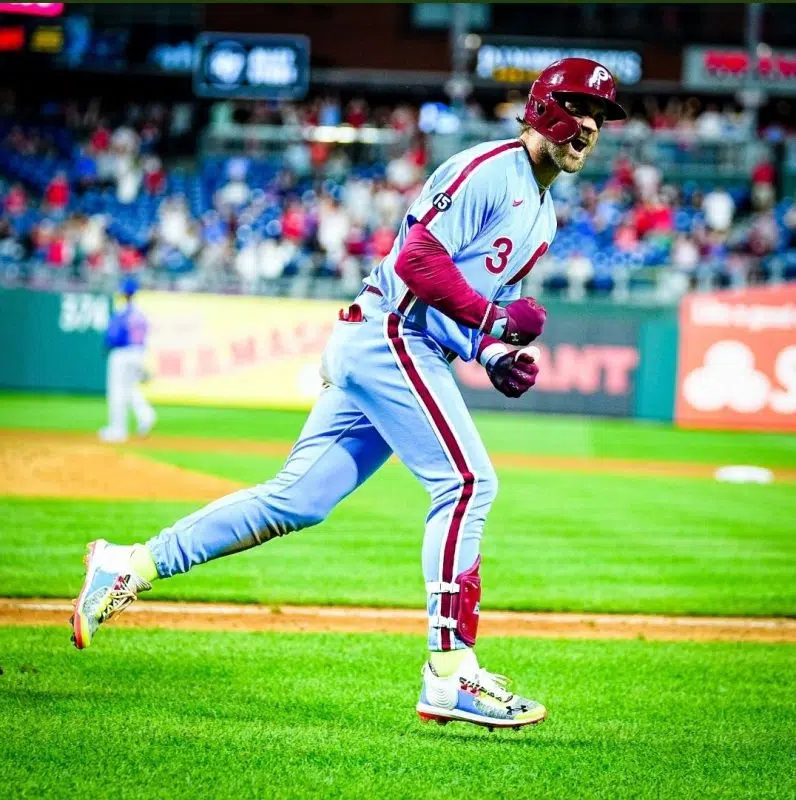 So, what does Bryce have to say,
"It feels good. But we have a while to go. I just want to keep playing well and have good at bats. Have good games. Just be where we need to be down the stretch."
Harper followed up by saying,
" i know it's kind of crAzy and it doesn't make sense but i don't like MVP talk, i don't like looking at my numbers…i just want to show up…helPing this team win."