Pacquiao v Ugas ends in a Loss for the Pacman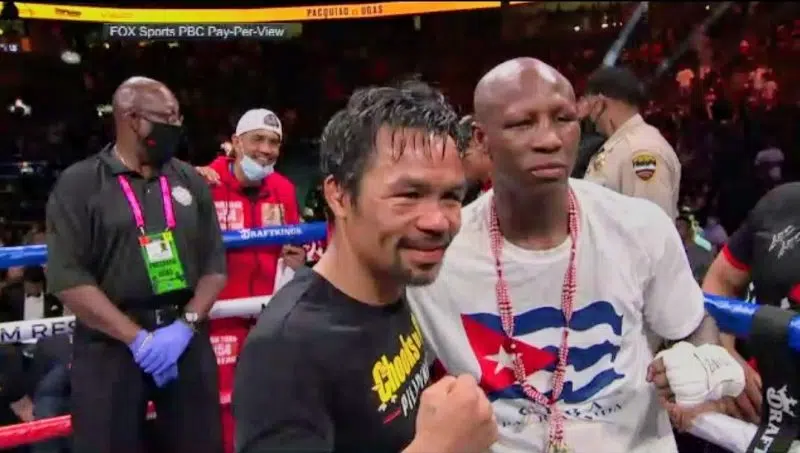 Originally, this fight in Las Vegas' T-mobile arena was destined to become a celebration of the Legacy of Acclaimed Filipino boxer, Manny Pacquiao. There is no doubt among the masses that Manny was a certified champion spanning decades. Yet, the match did not unfold that way. After Errol Spence was unable to compete due to a detached retna, Ugas took the spot fighting in the Pacquiao v Ugas match.
Yordenis Ugas made it clear that he was not here to provide fanservice to the legendary boxer. Outside the ring, Ugas had nothing but love and respect for 42 year old, elder fighter. But inside, it was all business.
Short Notice Did Not Effect Ugas Performance
Despite, not being the original slated fighter, Ugas was grateful for the chance to face Pacquiao.
"I'm thrilled, and above all, I want to express my gratitude to Manny Pacquiao for granting me this opportunity in the ring today."
-Yordenis Ugas
Yet, the respect and admiration Ugas had for Pacquiao was not going to get in the way from his own victory. Because, Ugas was not planning to hold back any punches. Ugas, who agreed to the fight with only 11 days' notice, won by unanimous decision on Saturday night to maintain his WBA "super" welterweight championship.
Results, Judges Score for Pacquiao v Ugas
Ugas secured a unanimous decision victory in the Pacquiao vs. Ugas fight, with all three judges scoring the bout in his favor: 116-112, 115-113, and 116-112. Furthermore, ESPN had it 116-112 to confirm victory for Ugas. Considered the underdog, Ugas won as a +310.
Last night, Pacquiao left the ring with two cuts on his eye.  Both required stitches but his injuries did not break his stride or his demeanor. All smiles, he turned to the crowd thanking them for their support,
"I'm thankful for the fans…I'm sorry we lost tonight but I did my best. I hope that in my more than 20 years was you find some enjoyment." 
With regards to the result of the fight, Pacquiao v Ugas, and loss, he responded with, "That's boxing." While, many speculate on his potential retirement, Pacquiao gave no indication that his decision was going one way or the other. But when pressed about the possibility of running for President of the Phillipines, he responded with, "I want to help the people."