I'm gonna be King of the Pirates!
One Piece's Monkey D. Luffy and the gang are coming to Netflix but in live-action. There has been a 10 episode order for a One Piece live-action show.
(Oda announced live-action adaptation)
One Piece is the best selling manga series created by Eiichiro Oda. The series sold over 460 million copies. The live-action adaptation has been in development for a while, but news about it happening was announced.
One Piece is a popular anime all over the world. It has over 900 episodes and will more than likely hit the 1000 mark soon. Also, there are over 80 manga volumes to its name. That's a lot of reading. Hence, with the popularity of the anime show, there have been 14 movies made for the series.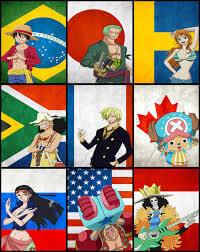 (One Piece Characters and they're supposed ethnicity)
What do we know so far?
Netflix is working with Tomorrow Studios, Shueisha, and the creator of the series Oda to bring these crazy good-hearted pirates to the world. There is no casting or release date yet for One Piece, but what we do know is that Oda is excitive producing the show alongside Marty Adelstein and Becky Clements of Tomorrow Studios (Cowboy Bebop, Snowpiercer, Hanna).
One Piece is about a Pirate captain named Monkey D. Luffy and his crew of supernatural pirates who journey the world to find the legendary pirate treasure "One Piece." During their travels, they come across people and lands who need help to fight other pirates or warlords.
More live-action anime adaptations!
(Anime Cowboy Bepop and live-action Netflix Cast)
This is not the only anime that Netflix wants to make a live-action adaptation. They first announce that Cowboy Bepop will be getting a live-action adaption. The Cowboy Bepop adaptation will be starring John Cho as Spike Spiegal, Alex Hassel as Vicious, and Mustafa Shakir as Jet Black. The original release date for Cowboy Bepop is April 4, 2019, but due to the on-set injury of John Cho, a new release date has not been announced yet.
If you like these live-action anime adaptions or want us to know who should get one, comment below and let us know.