When we think of Nipsey Hussle and the mark he left on hip hop music, we think of greatness. That's what Hussle's family had to say about the rapper when he received a star on the Hollywood Walk of Fame this week.
Monday, August 15, also would've marked the "Grinding All My Life" rapper's 37th birthday. Now he remains forever immortalized on Hollywood Boulevard and beyond. Hussle left a huge footnote in the hip hop game and even its history. Though, Hussle was a star even before the Grammy wins and the fame hit.
Hussle Never Stopped Looking Out For "The Little Guy"
View this post on Instagram
Considered a "pillar of the community" by so many, Hussle was more than just an average rap star. He cared deeply for his community, often taking the time to help "the little guy." During a 2018 interview with the Los Angeles Times, Hussle revealed that he grew-up in a poor household. He admits that as a child, he wasn't looking for someone to give him materialistic things. Instead, he just wanted someone who cared about him. "They were someone who aimed for change and had an agenda beyond their own interests," he told the publication. Even from a young age, Hussle had a heart of gold. He understood the true meaning of giving back to a community, especially to someone less fortunate than then themselves.
Furthermore, Hussle often performed charitable work around his community. The rapper performed almost unimaginable tasks such as providing work for the homeless, buying shoes for students, and funded local funeral homes for low-income families. Hussle even went as far as launching a co-working space and STEM center for inner-city children. Obviously, the man did it all and then some! Even the richest celebrities in the world wouldn't have done what Nipsey Hussle did for his community.
Hussle's Family Already Knew He Was A Star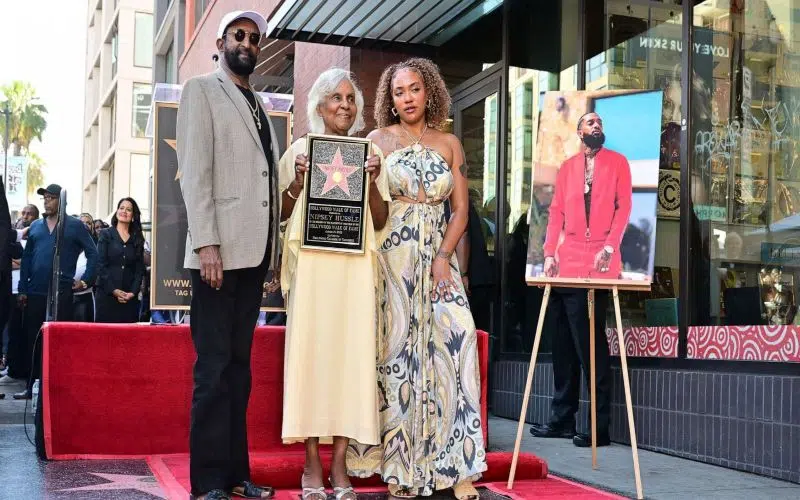 The rapper received a star on the Hollywood Walk of Fame last Monday, which is not surprising. It's clearly been a long time coming, but Hollywood finally woke up and gave the man his well-deserved flowers.
Several people were in attendance of the honorary ceremony, which included YG and Roddy Ricch, Hussle's 13-year-old daughter Emani, his partner Lauren London, and his family. Moreover, the ceremony included speeches and remarks from the rapper's sister, Samantha Smith, and his grandmother, Margaret Boutte. Long before fame and fortune found him, he was already a star in the eyes of those closest to him.
"You have always been a star to me, to the family, and to God, even before the recognition came." You've affected the lives of so many in the realist ways — the realist ways, the realist ways," Samantha Smith said during her speech at Monday's ceremony.
Lauren London Remembers Her Late Fiancée's Wise Words
Hussle's fiancé echoed a similar sentiment, referring to him as a man destined for greatness. Additionally, London celebrated both the Los Angeles rapper's Walk of Fame star and birthday on Instagram. "From 60th St to a Star on Hollywood. Happy Heavenly Birthday Hussle Man. Love You Beyond," she wrote in a caption, alongside a photo of Hussle.
During Monday's speech, London reminded the attendees and loved ones that Hussle often thought of progression towards a better tomorrow and an even greater future. Additionally, their 6-year-old son, Kross Ermias, accompanied London to the ceremony. It is obvious, Hussle was a selfless man.
Hussle sought to change the Black community for the better. Instead of talking about it, as so many famous personalities and political figures do, he took to the streets and did the work! Hussle had been a man of action and purpose. Objectively, Nipsey Hussle deserves more than a star on the Hollywood Walk of Fame. He deserves a standing ovation.