Inspiring NASCAR Hero, Sherry Pollex, Leaves a Lasting Legacy of Courage and Compassion
I'm deeply saddened to share the news of Sherry Pollex's passing. She was a fantastic person in the world of NASCAR, not
just
a racer but someone who did some
really
special things.
Sadly
, cancer took her from us at the age of 44.
Sherry wasn't
just
about racing fast cars. She had a huge heart, and she wanted to make the world better. She started something called "Catwalk for a Cause," which was not your regular walk. It was like a fancy party where everyone dressed up all nice. But it wasn't
just
for fun; it was to help kids who were also fighting cancer.
They raised over 4 million dollars, which is like having a mountain of ice cream, but even better because it helped sick kids
.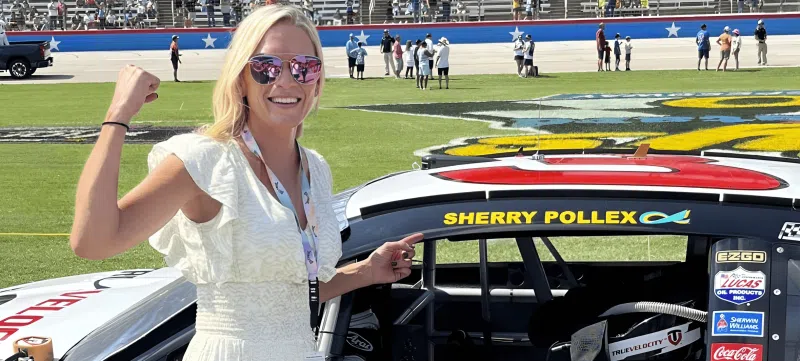 But Sherry didn't stop there. She cared about grown-ups too, especially those with ovarian cancer. She wanted to find better ways to help them, so she teamed up with a special place called Novant Health in 2020. Together, they created the Sherry Strong Integrative Medicine Oncology Clinic. It's like a place where doctors and friends work together to help people with cancer feel better.
In 2017, Sherry did something truly amazing. She received a special award called the Myers Brothers Award. It's like getting a big shiny gold star in school, but even bigger. NASCAR gave her this award because she was like a hero in the world of fast cars.
What made Sherry even more special was her bravery. Even when she was sick, she kept smiling and showed us that we can be strong, no matter how tough things get. She inspired many people to never give up, no matter what.
So, while it's sad that Sherry is no longer with us, we'll always remember her as a kind and brave person. NASCAR and the whole world will keep her in our hearts, like a superhero who will never be forgotten.