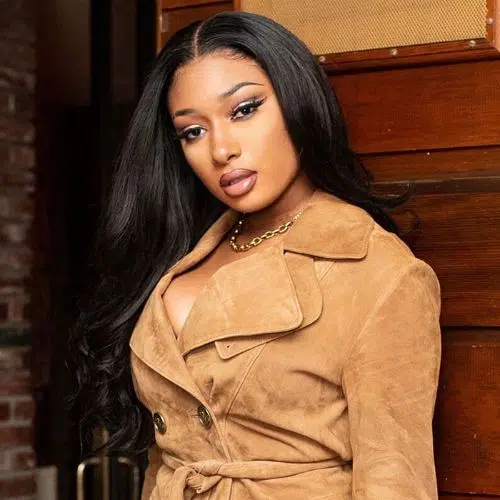 Meg Thee Stallion has a new opportunity with Nike, and she's doing it her way. Megan is partnering with Nike for their new fitness campaign. The Hottest Hottie will be honored as Nike's 'Hot Girl Coach'.
Megs hit the scene in 2018 with her risqué project, Tina Snow which includes hits like "Big Ole Freak" and "Cash Sh*t". Fans from all over tuned in to hip-hop's new sex symbol.
Where Did Megan Thee Stallion Get Her Name?
Standing at 5'10 with "meat on her bones" (as old southern folks call it) earned the name "Stallion" in her younger years growing up in Texas for being tall and "thick".
Born Megan Jovon Ruth Pete, was born on Feb. 15, 1995, falling under the star sign Aquarius.
A Texan Upbringing
To have grown up in Houston makes the star boastful of the greatness the culture evolved her into. According to The List, Megan stated, "I feel like I have to put on for my city, because there are so many legends and so many greats." She added, "But I don't feel like we ever really had a female lyricist to come from Houston or Texas and shut s**t down."
The WAP rapper stands on her stance of her love for Texas. She knows the impact Texas has made on her musical influence and doesn't mind letting the world know.
Hot Girl Summers
Since 2019, women all over the world have been celebrating what the voluptuous rhyme genius calls "Hot Girl Summer." She released the track featuring Nicki Minaj and Ty Dolla Sign prompting all the sexy ladies to crown themselves as "Hot Girls" or "Hotties"— the beginning of the "We Outside" era.
Dance Is A Sport, According To Megs
The star flexes her dance moves in the 2020 hit, "Body" where she showcases her dance move athleticism. The Stallion bounces on her knees on every stage she graces and the hard work has paid off.
Nike wants to campaign with Meg Thee Stallion! According to Yahoo Life, Megs teams up with Nike as their "Hot Girl Coach" to promote the Nike Training App seated in empowerment.
The ultimate Hottie herself is using her platform to encourage others to take on any sport that makes them happy.
In an Instagram post, where she referred to herself as a "Nike Hottie" reveals that she's sharing her fitness story. She explains how she was stereotyped as a traditional sports player because she was tall.
However, she discovered her sport, dance. Many ridiculed the star impeding that dance isn't a sport.
"People like to tell us what we can and can't do, but we ain't hearing that," she said. "True hot girls understand that only we can define ourselves."