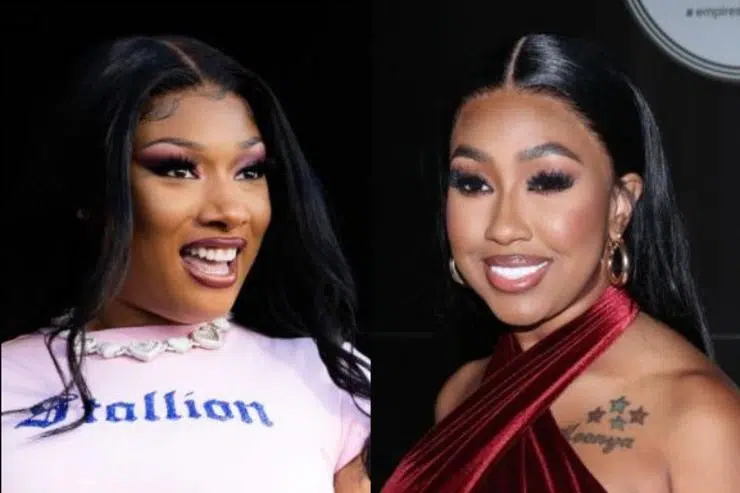 Meg Thee Stallion is on her never-ending rise to fame as she flawlessly sells records, tour, and do interviews with important people—important people like Caresha from City Girls. Caresha Please is a podcast show where the Miami PYT brings guests on to be candid about their personal lives and experiences. It's giving the tea! On past episodes, Caresha would host guests like Kevin Gates, who absolutely took candid to the next few levels. Her current love interest, P. Diddy Combs would cameo on the show, appearing to be bashful about his relationship with Caresha, although all smiles. The sexy mama would even host her best friend and band mate, JT.
Meg and Caresha Get Candid
Caresha's most recent guest, Meg Thee Stallion would set fire to the show during her appearance. The walking sex symbol would go on to discuss various topics from her new album, Traumazine to her sexuality. Fans would stan for the sexual tension between the two Southern, voluptuous rappers, according to Revolt. Meg is known for keeping it real, so she would not shy away from this when asked if she liked girls by Caresha. Was this up Meg's alley?, because there is no hesitation to the answer for this question. "I mean, I like what I like… I like you. Yung Miami would swiftly reply with, "You do? You'd f*** me?
that caresha, please interview was so gay; i loved every second. pic.twitter.com/AY62wW9KJX

— 🦋jolyne cujoh stan account🦋 (@NostalgiaQueen) August 26, 2022
A very relevant topic Meg would go on to discuss would be how fans encourage beef between female rappers. According to Complex, Meg would address how this issue affects female rappers in the industry. "Do you feel like y'all ever be in those type of predicaments where you feel like you can't work with somebody because you worked with somebody else?"