Celebrities love celebrating their birthdays in a big way. Though, Lil Kim decided for her 47th birthday to have a more intimate gathering with her famous friends. Everyone from Mary J Blige to French Montana and Fabulous showed up for the star's special day. Additionally, they gifted Lil Kim with surprises. Though, the star-studded gathering wasn't the only thing that stole the show. The fashion icon also showed off her unbeatable sense of fashion at her birthday bash.
            The Rapper Celebrated With Friends
Being in show business makes it hard for celebrities to maintain true and lasting friendships. Though, stars like Lil Kim are lucky enough to have found great friends. Recently, Lil Kim celebrated her 47th birthday with all her best buds.
On Saturday, the star posted a series of photos on Instagram of herself sharing her special day with some of her closest friends. All those in attendance included Mary J Blige, French Montana, TT Torrez, Bustamante and her bestie, rapper Fabulous. Furthermore, Lil Kim poses with her friends and even showed off some expensive gifts like a sliver wristwatch and bangles.
In the last photo, Lil Kim gushed over Fabolous's surprise gift, where he took her to Jue Lan Kitchen, her favorite restaurant. The 47-year-old described the dinner as one of the best birthdays ever. Obviously, she had a great time.
                    Lil Kim Dazzles In Her Ensemble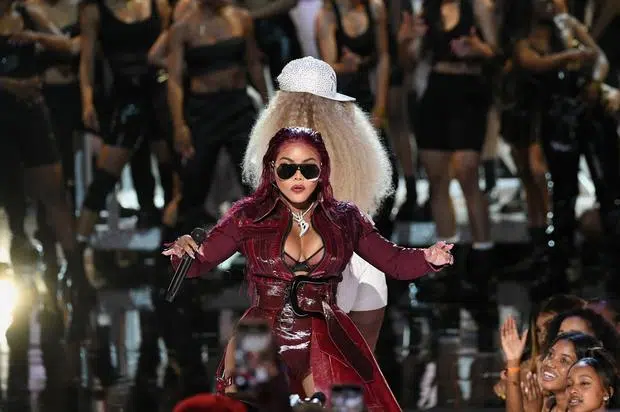 Cleary, the rapper had an awesome birthday with some of her closest friends. Fabolous's gift was the best of them all. Though, Lil Kim didn't just have her friends over for her special day. The star even brought her fashion A-game to the birthday bash. Apparently, when Fabolous told the star to "beautify" herself, she wasn't playing. According to Amo Mama, the 47th "dazzled in a floral black kimono dress that featured a thigh high slit." Additionally, she wore a silver necklace and heels to complete the look. The publication further described the star as looking "ageless" in her ensemble. Of course, the birthday girl had to show off her best fashion piece.