Upcoming rappers always love to boast about their rap prowess. They even go as far as self-proclaiming themselves as the new faces of hip-hop. Lil Durk certainly thinks highly of himself, considering the awesome year he's had. The Chicago-native has spent 10+ years in the studio booth dropping hit after hit record. Not to mention, he owns his own record label. Clearly, Lil Durk is a self-made man. Recently, the baby-faced entrepreneur did an interview where he crowned the top three new kings of hip-hop.
The Chicago-Native Names The New Kings Of Hip-Hop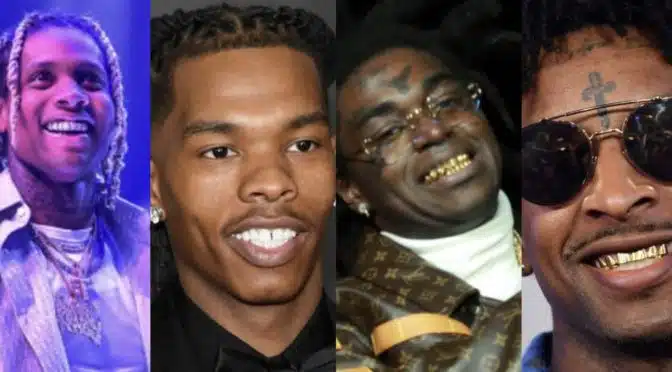 While Lil Durk remains at the top of his game, he's not too far gone that he can't share the spotlight with his friends. During an interview with The Full Send podcast, the Chicago-rapper was asked to choose the top three rappers running the rap game right now . Durk nominated 21 Savage, Lil Baby and Kodak Black as the cream of the crop.
Arguably, they haven't reached the legendary status yet, but it's possible to hail them as the new kings of hip-hop. With the rap game changing so much, there's no telling who'll be on top tomorrow.
           Lil Durk Has Collaborated With All Of Them
Of course, Durkio has collaborated with all the greatest talents in the rap industry. Furthermore, he and Lil Baby joined forces for their collaboration track "Voice of The Heroes." Additionally, Yak had Lil Durk featured on "Back For Everything." Lastly, Lil Durk collaborated with 21 Savage on two tracks, "Die Slow" and "Who Want Smoke?" Clearly, Lil Durk works well with many big-time rap stars. Not only that, but he meshes well with the three new kings of hip-hop.