Only a handful of artists in the music industry can deliver a grand performance both in the studio and on stage. Singer and rapper Kid Cudi has gained the reputation for being one of the greatest artists of all time. In fans' eyes, he can do no wrong, even while wearing a dress. During a live SNL performance, Kid Cudi paid homage to late Nirvana singer Kurt Cobain by wearing a dress. The outfit signified the time when Cobain himself notoriously wore a dress years ago. Clearly, Kid Cudi has mad respect for the Nirvana frontman.
Kid Cudi Rocked Out In A Dress To "Sad People"
With so many artists changing the face of HipHop and music in general, they're also shifting the culture. In recent years, stars like Jaden Smith and Frank Ocean have changed societal views on sexuality. In fact, that've pushed the envelope on fashion trends by advocating for more non-binary clothing options. Kid Cudi seemingly took part in the movement by wearing a dress during an SNL performance of his song "Sad People."
The episode aired back in April of this year, showing the rapper and singer bravely taking the stage in a floral white dress. Though, the particular clothing choice stemmed from the HipHop icon paying homage to the late Nirvana frontman Kurt Cobain. In side by side photos shared by fans, Kurt and Kid Cudi wore the same dress styles. Cudi further honored Cobain by wearing a green cardigan and a shirt featuring SNL's Chris Farley. According to sources, Kurt famously wore the shirt during the-now MTV unplugged concert series. All in all, it was one iconic artist paying his respects to another.
Fans Commended Kid Cudi's Performance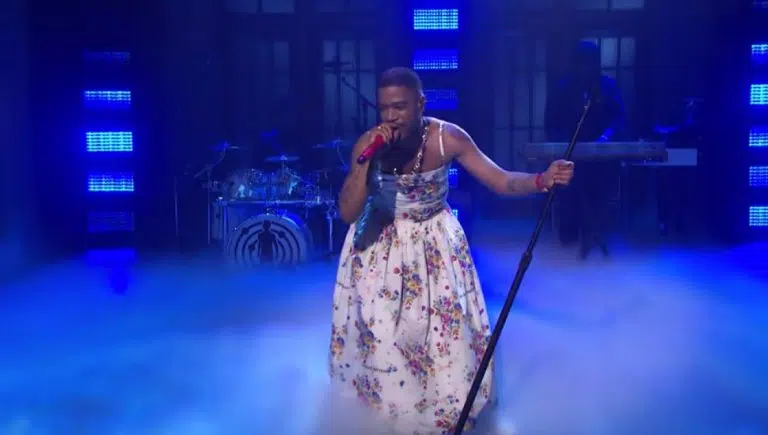 Even in the face of potential backlash and ignorance, Kid Cudi still rocked out in a dress. The 37-year-old artist certainly left a huge impression on fans. More importantly, his homage to Kurt Cobain spoke volumes, especially when he addressed the stigmas surrounding mental illness.
Similar to Kurt Cobain, Kid Cudi has spoken out about his struggles with depression. Additionally, he's even advocated for mental health awareness. Kid Cudi's dress only made fans commend the artist for his bravery and valor. "Kid Cudi's powerful Kurt Cobain tribute on #SNL, coinciding with the anniversary of Cobain's passing. @KidCudi promotes love, suicide prevention, and awareness! Truly a legendary moment."
he's a legend.