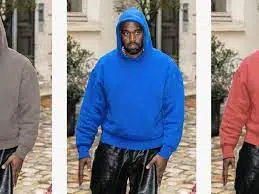 "Yeezy, Yeezy just jumped over Jumpman!" Kanye West is ripping through headlines like crazy. Sitting on a whopping 1.8 billion, Ye' has claimed title of the being the richest rapper alive, dropping his collaboration with Gap on Wednesday.
For instance, do you remember Watch The Throne? The 2011 hit album highlighted media's favorite bromance, Ye and Jay. In one of the songs, Illest MF*** Alive, Kanye broke it down to the people that he really is the Illest MF*** Alive. Fast forward 10 years later, he's proven his word to be true.
A Kanye Summer
Ye's trending streak over the last few months consistently gives fan something to talk about. This summer's great anticipation to his new album, Donda shed a blinding light as fans stayed down for the Good Life rapper. After three listening parties and a slew of backlash from commentators, the album released.
Besides being the illest, Ye knows how to stir the pot. During one of his sets at his last listening party, he invited Marilyn Manson and DaBaby. Both in hot water with the public for obscene comments and behavior. However, Kanye broke a record by having 341 streams on the very first day, according to Rollin Stone.
The Big Drop
Moreover, "The Perfect Hoodie", as fans call, it dropped on Wednesday. Kanye's new collaboration with Gap further confirms that he is the Illest MF*** Alive.
Or Is He?
Or is he? According to Yahoo Lifestyle, fans aren't too thrilled about the new fall garment. Apart from being the most successful rapper in the industry, Ye is very confident that his taste in fashion is as impeccable.
This hoodie that everyone is speaking of sold out in droves. However, he will always have a few haters in the mix. Fans took to Instagram for a few public comments.
Fans say the hoodie is Walmart quality and overpriced.