Kanye West's 2024 Presidential Run A Vision for Positive Change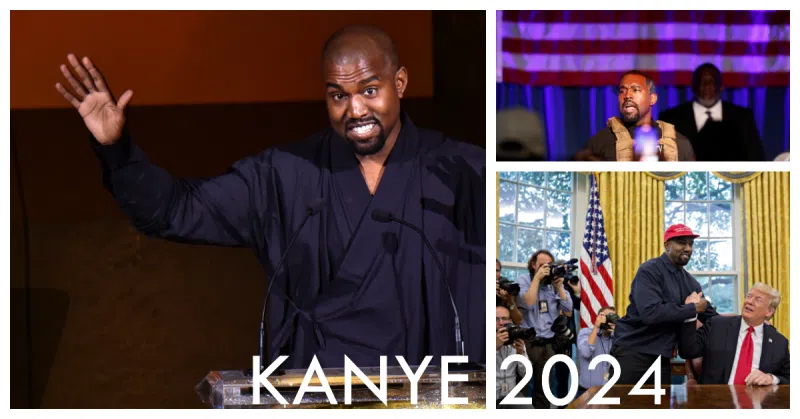 Vision for positive change in the political arena welcomes back the renowned artist and entrepreneur Kanye West. Undaunted in his unshakable conviction that he has been ordained to participate in the year's 2024 presidential campaign, the West who braved politics in this year's election continues ahead undaunted as he, after facing challenges, pursues initiatives focused on agriculture, technology, and sustainable living.
The urge on Kanye West's desire to get into the presidential race has only heightened. His past electoral experience and a personal investment of more than $12.4 million have given him the promise of hope that he can make meaningful improvements in society proposed by a sense of higher purpose.
Visioned on insights gleaned from his earlier endeavor, West is now crafting a strategy that uses a unique voice and vision to leave an enduring imprint.
At the heart of Kanye West's presidential initiative is a three-prong agenda focused on comprehensive positive change as indicated with priority positioned in agriculture, technology sustainable living among other facets of modern life.
West's ambitions extend to the foundation of society – agriculture. He envisions a future where sustainable farming takes center stage. By embracing technological advancements, West aims to champion efficient and eco-friendly farming techniques that would provide food security while putting top priority on the well-being of this planet.
Central to West's campaign is a commitment to technological advancement. Acknowledging the fundamental role that innovation plays in shaping the world, he dreams of creating conditions favorable for tech entrepreneurship – an approach aimed at promoting economic growth and job creation as well as furthering future generation innovators as they prepare them to take on roles as global leaders in technology.
West clearly shows off his passion for sustainability. He envisions a nation where sustainable living becomes an accepted way of life. Through clean energy advocacy through policy by also advocating conservation of resources and stewardship over the environment, he hopes to guide this country towards a more sustainable future based not only on words but deeds, too.
Drawing from previous campaign experiences, Kanye West desires to perfect his strategy for the 2024 presidential bid. Keen to resonate with the right voters, he has painstakingly mapped out tactics geared toward enhancing and scaling his message.
Key in West's strategic intent is a bond nurtured between him and financial expert Censori. This alliance speaks of responsible fiscal management as the best way of optimizing resource allocation for optimal results. In addition, his liaison with entrepreneur Dov Charney for the Yeezy brand not only says volumes regarding business acumen but also serves to expand the scope and influence of said campaign simulacrum.
Kanye West's 2024 presidential campaign does not stop at politics- a testament to unshakable faith in a divine call. With an agenda of agriculture, technology, and sustainability vision, he will tackle redefining the course of this nation. Drawing from past experiences with courage set through strategic partnerships and collaborations, his campaign has purpose, innovation, and societal advancement at its core.