The music industry is in mourning as news of the tragic death of Hong Kong singer Coco Lee at 48 circulates. The beloved singer was found to have died by suicide, leaving behind devastated family members and countless fans who adored her for her talent and charisma.
Coco Lee's departure from this world has undoubtedly inflicted an indescribable void among those who held her close to their hearts. This devastating occurrence serves as a poignant reminder about nurturing one's mental well-being and implementing robust mechanisms for suicide prevention, particularly within the often challenging landscape of the entertainment industry.
It is imperative to acknowledge that persistent pressures and intense scrutiny individuals encounter in this realm can significantly impede their overall wellness and happiness levels.
Coco Lee's Early Life and Musical Career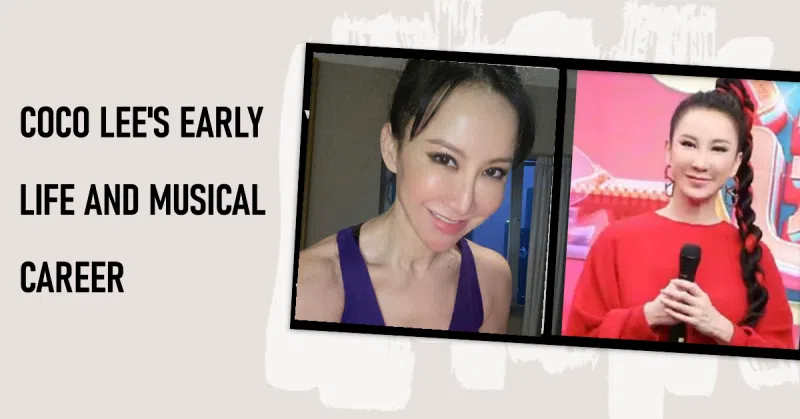 Coco Lee was born on January 17, 1975, in Hong Kong. Coco is the youngest of three siblings. I was raised in San Francisco, California. Her father, a retired mechanical engineer, and her mother, a former nurse, provided a nurturing environment for her upbringing.
Coco Lee began singing young and joined her school's choir. Her passion for music led her to participate in various talent shows and contests. In 1992, she entered and won the New Talent Singing Awards in Hong Kong, which launched her career in the music industry.
| Discography | Notable Songs |
| --- | --- |
| Just No Other Way (1999) | "Do You Want My Love", "Before I Fall In Love" |
| Coco Lee (1996) | "Wherever You Go", "Can't Get Over" |
| Promise (2005) | "Love Me a Little", "So Crazy" |
| Exodus (2009) | "Hip Hop Tonight", "Dance with You" |
Coco Lee's music career took off in the U.S. and Asia following her debut album in 1994. Her music ranged from pop, R&B, and dance to Mandarin and Cantonese pop songs. She collaborated with renowned musicians such as Whitney Houston, Boyz II Men, and Leehom Wang.
She is widely recognized for her contributions to the music industry. Specifically through the creation of numerous iconic songs. These include "Before I Fall In Love. " which gained popularity due to its feature in the film "Runaway Bride," "A Love Before Time. " a captivating piece that was showcased in the movie "Crouching Tiger, Hidden Dragon. " and finally. "Can't Get Over. " a notable track incorporated into the movie "Dragonball Evolution."
Coco Lee's Achievements and Recognition
Coco Lee's musical prowess and talent garnered multiple awards and recognition throughout her career. She has won numerous awards, including the prestigious Mandarin Music Honors Award, RTHK Top 10 Gold Songs Award, and MTV Music Video Award. In 2007 she received the prestigious World Outstanding Chinese Award in recognition of her significant contribution to the music industry.
Coco Lee's Achievements and Recognition
Coco Lee was a highly accomplished singer and songwriter whose talent was recognized both nationally and internationally. Throughout her illustrious career. She's got a bunch of awards and recognition for her amazing accomplishments. Which aptly demonstrated her unwavering commitment to honing her craft.
| Award | Year | Category |
| --- | --- | --- |
| Golden Melody Awards | 2001, 2004, 2006, 2008 | Best Female Singer in Mandarin |
| Jade Solid Gold Best Ten Music Awards | 1998, 1999, 2001 | Best Female Singer |
| RTHK Top 10 Gold Songs Awards | 1994, 1997, 1998, 2000 | Gold Songs Gold Award |
Coco Lee has undeniably left an indelible mark on the music industry through her exceptional talent and invaluable contributions. Her immense success transcended borders earning recognition not only in Asia but also worldwide.
In 2007. Coco Lee triumphantly claimed victory at the esteemed World Music Award as she was crowned as the Best Selling Chinese Female Artist globally. Moreover. She had previously secured nominations for this prominent distinction in both 2001 and 2005.
Coco Lees' well-deserved accomplishments are a testament to her unwavering work ethic and unwavering commitment to honing her craft diligently. Through her captivating melodies, she managed to profoundly move millions of listeners, thus firmly establishing herself as an illustrious icon within the vast realm of music.
The Impact of Coco Lee's Music on Her Fans
Coco Lee's music has had a profound impact on her fans. Her unique style and powerful voice resonated with people worldwide, regardless of their language or cultural background.
Her music tackled themes such as love, heartbreak, and self-empowerment, allowing her fans to relate to her personally. Her lyrics were often heartfelt and catchy, making it easy for her fans to sing along and feel the emotions behind the words.
Many fans used social media to express their grief over Coco Lee's death. They shared their favorite songs and concert memories, highlighting her music's impact on their lives.
Personal Stories of Fans Benefiting from Coco Lee's Music
One fan shared how Coco Lee's music helped her through a difficult breakup, saying,
"When I was going through heartbreak, I listened to Coco Lee's music on repeat. Her songs gave me the strength to move on and believe in myself again."
Another fan shared how Coco Lee's music helped her feel proud of her cultural identity, saying,
"As an Asian American, it's not always easy to feel like you belong. But when I heard Coco Lee sing in both English and Chinese, it made me feel proud of my heritage and showed me that bridging cultures through music is possible."
Coco Lee's music will continue to inspire and touch the lives of her fans for years to come, leaving behind a lasting legacy.
Remembering Coco Lee: Tributes and Condolences
The sudden death of Coco Lee has left her fans, fellow musicians, and the entertainment industry mourning a significant loss.
The news of her passing has sparked an outpouring of tributes and condolences worldwide. Fans have taken to social media to express their love and admiration for the singer, sharing personal memories and photos.
Coco Lee's fellow musicians have also paid tribute to her, with many sharing heartfelt messages on social media. Some have dedicated performances to her memory, while others have shared photos and memories of their time together.
The entertainment industry has expressed shock and sadness over Coco Lee's passing. Many have offered support to her family and loved ones, and there are calls for increased mental health awareness in the industry.
As the world mourns the loss of this talented singer, plans are underway for a memorial service to celebrate her life and legacy. Details of the service will be shared in due course, and fans are encouraged to stay tuned for updates.
Mental Health and the Entertainment Industry
The entertainment industry is known for its glitz and glamour, but many celebrities struggle with their mental health behind the scenes. The pressures of fame, public scrutiny, and intense work schedules can take a toll on even the most resilient individuals.
Mental health awareness and suicide prevention are crucial issues that need to be addressed within the industry. The tragic death of Coco Lee highlights the importance of prioritizing mental health and well-being among celebrities.
The Challenges Faced by Celebrities
Celebrities are constantly in the public eye, and the intensity of the scrutiny can be overwhelming. From invasive paparazzi to online trolls, stars face constant criticism and judgment from the media and the public. This can make you feel alone, anxious, and sad.
In addition, the pressure to maintain a perfect public image can be exhausting. Many celebrities must present a perfect facade to their fans and the media, which can be emotionally draining. This pressure can also lead to issues with body image, eating disorders, and substance abuse.
The Responsibility to Support Celebrity Mental Health
The entertainment industry is responsible for supporting its celebrities' mental health. Studios, labels, and production companies should prioritize the well-being of their artists and provide resources to help them manage stress and mental health issues.
It's also essential for fans and the media to acknowledge the human side of celebrities and respect their boundaries. While it's natural to be curious about a celebrity's life, invading their privacy can severely affect their mental health.
Suicide Prevention and Mental Health Awareness
The entertainment industry must prioritize suicide prevention and mental health awareness. This involves supporting celebrities dealing with mental health problems and raising awareness about the significance of mental health and available resources.
The industry can help prevent celebrity suicides and support the mental well-being of those involved by promoting open discussions and removing the stigma around mental health.
Coping with Loss: Resources and Support
Grieving the loss of a loved one is a complex process, but resources and support are available to help those who are struggling. If you or someone you know needs assistance, the following resources may be helpful:
National Suicide Prevention Lifeline:  A 24/7 hotline for anyone in crisis who needs immediate help. To speak with a counselor who has been trained, you can call 1-800-273-TALK (8255).
Mental Health America:  A nonprofit organization promoting mental health and providing resources and support. Visit  www.mhanational.org  to find local help or take a screening test.
American Foundation for Suicide Prevention:  This nonprofit aims to prevent suicide through research, education, and advocacy efforts. We are committed to understanding and addressing this critical issue. Visit  www.afsp.org  to learn more and find support groups.
National Alliance on Mental Illness:  This national organization offers education, support, and advocacy to individuals impacted by mental illness. Visit  www.nami.org  to find local resources and support groups.
Remember that taking care of yourself during this difficult time is essential. Seek professional help if needed, and don't hesitate to contact friends and family for support.