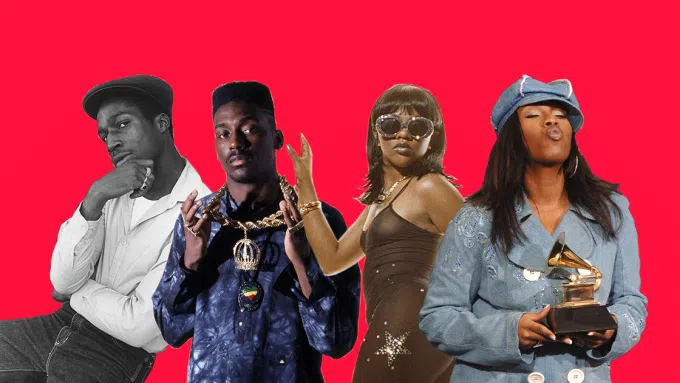 Last night a DJ saved my life: Kool Herc and the first hip-hop party
Herc was born in Kingston, Jamaica, a city with more sound systems per square mile than human ears can calculate. He grew up listening to the ska, rocksteady and soul music that floated through the air in Kingston, and witnessed the local heroes – toasters or MCs – who roused the crowds with rhyming couplets uttered over the tunes the DJs – selectors – placed on the decks. Sir Lord Comic, Count Machuki, King Stitt, King Sporty and more could not only drive dancers into a frenzy, they worked it to outcompete rivals, helping to make their sounds rule their area.
Though Kool Herc was just seven when his parents moved the family to the Bronx, he'd absorbed enough of Jamaican musical culture to enable him to think differently to his North American neighbours. Besides which, The Bronx had its own more modest reggae culture, so Herc was aware of developments in Jamaican music such as the rise of the supreme toaster U-Roy, in 1970, and the birth of dub, which was built on the bare foundations of rhythm. When Herc first DJed, at an August 1973 party he co-promoted with his sister, Cindy, at 1520 Sedgwick Avenue, in Morris Heights, his feel was already different to other local spinners. He played raw street funk, but his emphasis was on the rhythm, which, at further parties, then at nearby Cedar Park, and then into nightclubs, he extended by mixing two, then three records together on twin record decks, utilising the breakdowns ("breaks") that were common in funk tunes, when the track was reduced to its essence: the beat.
The first hip-hop records: Enter The Sugarhill Gang and Grandmaster Flash
Herc was soon confident enough to show off his "merry-go-round" of looped beats which would give dancers many glitch-free minutes of segued funk, and he acquired some MCs, notably Coke La Rock, who had been alongside Herc at that first party, and Theodore Puccio; further members of the crew became known as The Herculoids. But, more importantly, Herc's fanbase included guys who would become crucial figures in spreading the rap message: Grandmaster Flash, who took the DJ style to the next level, and Afrika Bambaataa, whose Universal Zulu Nation became influential and added a more conspicuous dose of Black consciousness to the concept even as the music adopted a more disco and electronic-infused sound.
Pretty soon, street-conscious record labels sensed possibilities. Sylvia Robinson, of Sugar Hill Records, put together a group called The Sugarhill Gang, whose debut single, Rapper's Delight, was the first breakout hit of the genre, making the US Top 40. But it was not necessarily the first modern hip-hop record – that accolade probably goes to established funkateers The Fatback Band, whose King Tim III (Personality Jock) was released a few weeks earlier, in August 1979, and featured rapper Tim Washington.
Other companies, such as Winley and Enjoy, also released rap records, including the debut by Grandmaster Flash & The Furious Five, who shifted to Sugar Hill and released what was then regarded as an outrageously advanced breakbeat-built single, the seven-minute The Adventures Of Grandmaster Flash On The Wheels Of Steel, in 1981. Some of the breaks on the record were originally unearthed by Kool Herc. His revolution had begun – and it would be televised, eventually. However, Herc remained in the Bronx, referred to as a legend but never given the chance to record until later in life.
CyberSEO.net – ChatGPT autoblogging and content curation plugin for WordPress