David Schwimmer Did Not Like Marcel The Monkey

The Friends Reunion Special on HBO Max brought us many great moments and insight including why David Schwimmer hated Marcel. An audience member was given the opportunity to ask a question. James Cordon repeated, Was there any you didn't like while you were shooting the show? Marcel appeared in 8 episodes of friends and Shwimmer thought that was too much. 
Initially, James Cordan thought it was a horrible question that was not going to deliver anything good. Boy was he wrong! Apparently, the question offered us some insight to David Schwimmer's real feelings regarding Marcel, the monkey. It ended up being comedic genius.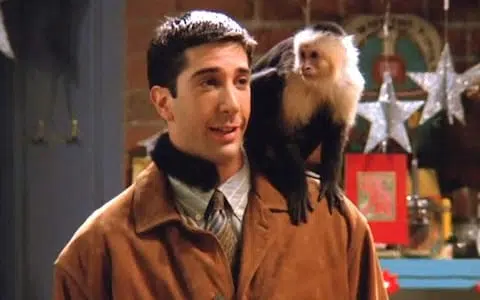 Unaminously, the cast agreed with David that the monkey was a problem.
"The monkey," Jennifer began.
"And the Monkey,"  David did not hesitate to admit. Clearly, there's a story there and he was more than happy to share that with us. Shwimmer had to contribute some more details to why he was not a fan of the monkey.
"The monkey scared me," Courtney agreed.

"David was not a fan." Matt Leblanc confirmed
David Schwimmer Hated Marcel

"Here was my problem. Obviously, the monkey was trained. It had to hit his mark and do its thing. What started happening was that we all had planned bits with timings, but sometimes they got messed up because the monkey didn't do its job correctly. So we had to start over and try again because the monkey didn't get it right.
But, he's not bitter at all. He continued, "the trainer would come up and just open and give the monkey live grubs to eat. So, the monkey would be sitting on my shoulders, take some grubs, break them in half, eat it and then go like that [grabbing his neck]. So I would have monkey grubby hands all over."
"It was time for Marcel to…to F*** Off."