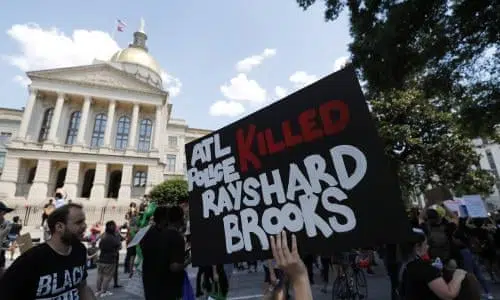 Rayshard Brooks, husband and father of four, fell victim to an Atlanta police shooting on June 12, 2020. Weeks after the death of George Floyd, during the height of civil unrest in Minneapolis, rioting began in Atlanta.
African Americans vs American Law Enforcement
According to Stacker, law enforcement officers killed 1,127 people in America alone in 2020. Despite African Americans account for only 13% of the population, about 28% die at the hands of law enforcement. The source also states that African Americans are three times more likely to lose their lives to a crooked cop.
Along the way, authorities impose discrimination tactics through other means of oppression. In Early Civil Era America, law enforcement in the south browbeat African Americans into submission to be inflicted with harsh labor.
Cold Truth of History of Police Violence Against Blacks
The policing of African American's began in South Carolina around the year of 1704, states Stacker. "Patrollers" chased slaves by horseback down to return them back to slavery. Fast forward 400 years, the same practices are still in place.
NPR lists the names of unarmed African American men and women killed by law enforcement. Eric Garner had recently ended a fight. Tamir Rice was playing in a park. Philando Castille was on the way home from a date with his girlfriend. Breona, sound sleep within the comfort of her own home. All examples exhibit a common denominator, white police officers.
What Happened?
Twenty-seven-year- old Rayshard Brooks, was shot down by the Atlanta Police Department after fleeing officers in a restaurant parking lot. According to Yahoo, Rayshard, found sleeping in a Wendy's drive through. When arriving to the scene, officer administered a breathalyzer where they found him to be well over the limit to drive.
As Brooks attempts to flee, he seizes a taser from an officer before the Atlanta police shooting.
Widow Seeks Financial Justice
Brooks' widow, Tomeka Miller, said that the killing was 'senseless and unjustified', on behalf of Brooks' estate. The lawsuit states that Brooks was denied proper medical attention on the scene of the murder.