Australia Fires Continue To Get Worse
Fires continue to rage throughout Australia. The high rate of fires is the result of high winds and temperatures up to 104° F across all states. The record high temperatures are due to a positive Indian Ocean dipole. A dipole is when temperature surfaces of the ocean are much warmer in the western half of the ocean as compared to the eastern half.
Because of this Australia has experienced a significant dip in rainfall and a rise in temperatures. Since September of this year, over four million hectares (9.9 million acres) have been destroyed by the fires.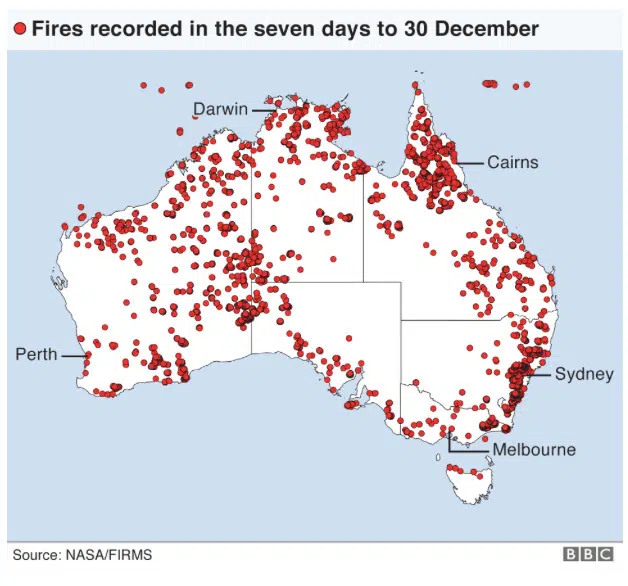 Fires Found All Over Australia
The above image shows the fires recorded in the seven days before December 30, 2019. The state that has been hit worst by the fires in New South Wales, where Sydney is located.
Since July of this year, over three million hectares have been destroyed by fires in this state. In comparison, the 2019 Amazon fires burned almost 900,000 hectares and the 2018 California fires destroyed 1.8 million hectares. Flames have been reported as tall as 70 meters, which is five meters higher than the Sydney Orchestra.
Another area that has been largely affected by the fires is Victoria, where Melbourne is located. In East Gippsland, Victoria 30,000 residents and tourists were initially told to leave the city. But this was later found to be too dangerous due to the fires spreading towards main roads.
Final Thoughts
It is unfortunate that environmental catastrophes such as the fires that continue to rage throughout Australia are not more prominent within media. Instead, there is a larger focus on eye-catching material such as what's the latest ridiculous thing Trump has said or tweeted.
The unfortunate lack of attention that this event has received has allowed for the fires to further spread. The fires have resulted in up to 30 percent of the koala population in New South Wales dying. As opposed to the mass amounts of attention brought to the fire at Notre Dame. These resulted in over €750 million being donated to restoring the building within only 10 days.
Sadly much more pressing environmental issues receive much fewer media coverage, funding, and support. What are your guys' thoughts though? Should environmental disasters receive more media attention? And if so how could this possibly be achieved?