.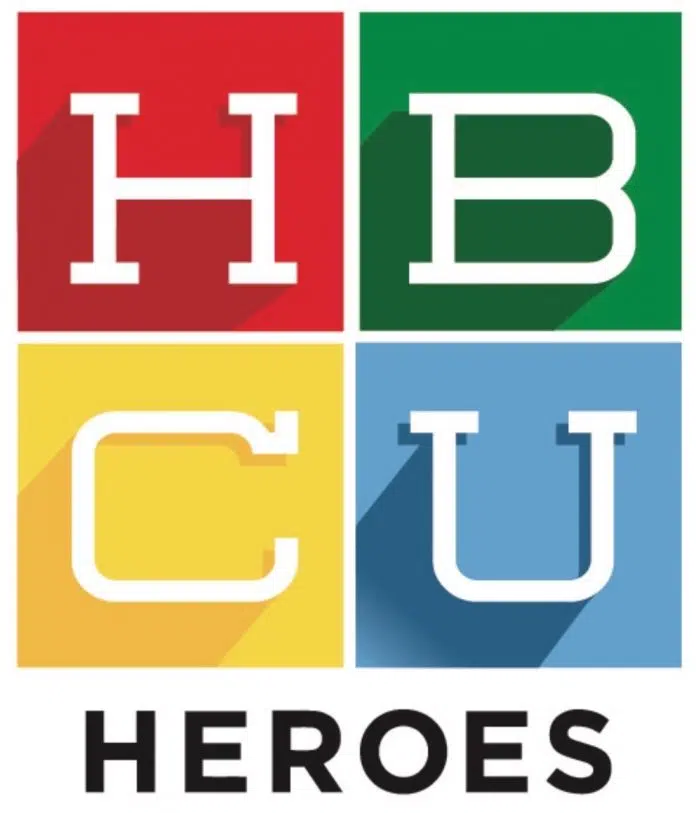 Atlanta, GA (December 18, 2020) – This week HBCU Heroes hosted their virtual HBCU eSports Holiday Showdown. Streamed on multiple platforms, the event kicked off with official NBA2K League commentator Jamie "DirK" Diaz Ruiz calling the plays.  Esports enthusiasts were able to watch the Hawks Talon GC  and HBCU Heroes' via Twitch channels, Facebook Gaming, YouTube, HBCUgoTV, HBCU Gameday, and HBCUHeroes.org. Competitors from HBCUs across the nation had the opportunity to win $50,000 in scholarships, prizes, and eSports lab funding to their institutions, sponsored by Intel.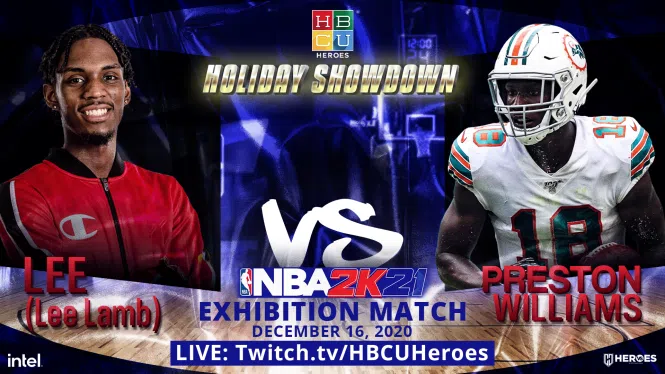 Celebrities and athletes suited up to win bragging rights as well as eSports funding for their HBCUs of choice, $2500 went to the match's winner, while $1500 was awarded to the runner up. Marquee participants included; Tarik Cohen, Chicago Bears running back and proud HBCU alum of North Carolina A & T State University (NCAT) who faced off in an exhibition match against Boston Celtics NBA2K League gamer Sheriff Cruz aka FTW,  who played on behalf of Hampton University.  Old school players also joined in on the fun, showing off their new school skills in a head-to-head NBA veteran's showdown. HBCU Heroes' co-founder and former Philly 76er George Lynch played to support Cheyney State University opposite Etan Thomas, former player with the OKC Thunder.  Thomas competed against Lynch in the NBA and faced off against him in this exhibition match to benefit Langston University, Oklahoma's only HBCU.
Matches:
In a match themed "Battle for the AUC," dynamic Miami Dolphins wide receiver Preston Williams went up against Hawks Talon Gaming Club's Lee Lamb aka LEE. Hawks Talon is the official NBA 2K League affiliate of the Atlanta Hawks. The match benefited four Atlanta HBCUs with $5,000 split evenly to assist Spelman, Morehouse, Clark Atlanta University and Morris Brown colleges with their eSports efforts.
HBCU Heroes produced the event as a gateway to HBCU s, who are experts at playing with friends, but may not have had the opportunity to compete in a league or tournament. Southern Law University Center also joined the effort, sponsoring returning HBCU gamer, Jamaal Young with a $1,000 scholarship donated to him through this tournament for his continued esports competitions and studies at Southern University.
Highlights:
Other highlights include returning players from the HBCU Heroes' summer eSports tournament, such as; reigning champion Ahmahd Moore from Fayetteville State University and Jamaal Young representing Southern University.   The response from HBCUs has been enthusiastic about participating in the tournament, as well as efforts to boost their eSports curriculum and programming.
"Morris Brown College became the first college in Georgia to offer a certificate and degree program in Esports Performance. We are excited about the new program and expect vast interest. We look forward to becoming a leader in Esports, not just within higher education, but beyond," said Dr. Kevin E. James, President.
About HBCU Heroes:
HBCU Heroes, founded by NBA veteran George Lynch and entrepreneur Tracey Pennywell, along with Kwame Jackson's corporate branding strategy, is a leading nonprofit in the HBCU space. They focus on culture, community, and commerce, partnering for maximum impact to uplift the HBCU community. Their fundraisers, streamathons, and digital funding drives have gained recognition from Forbes, Sports Illustrated, BET, Undefeated, Black Enterprise, ESPN, Black News Channel, and more. They provide all-in-one content and social impact initiatives that connect with the HBCU community. Visit http://www.HBCUHeroes.org.