Mac Miller's

Circles 
Is A Great Listen
Earlier today, Mac Miller's posthumous album Circles was released. You can stream it in several ways, such as on Soundcloud, Spotify, or Apple Music. After listening to the first couple of songs, I already knew I would love this album.
Overall, Circles is a quality and complete album. Miller was both able to create one fluid collection of songs with the production of Circles, as well as two complimentary albums with the pairing of this and Swimming. One can see the connection between these two works. Here is my Mac Miller Circles review.
Miller's Style & Flow Continued to Develop
Throughout his career, Miller was known for being able to keep his material fresh and exciting. This was done by not repeating the same formula and wearing out like artists such as Big Sean (who was pretty good at first) and many others.
Circles is  Mac's least hip-hop based album yet. And this isn't even a bad thing — instead, Circles is just a quality work of music that most people can enjoy or appreciate. Unique and distinct styles can be seen through his albums such as Faces, The Devine Feminine, and works as Larry Fisherman and Larry Lovestein. This most recent album is no different.
The beats are a combination of ambient and funk. There is an overall mellow, and relaxed vibe created. This accompanied by Miller's overall slow-paced flow on this album and word choice make for some great songs.
Miller Delivers Meaningful Content As Per Usual
Miller acknowledges that he feels or knows he's a bit different and crazier than he used to be. When it comes to life, he experiences some highs but also some pretty big lows. The Pittsburgh native attributes this to several things, including the fast passed nature of the world, people, and his mind always racing. It would seem he much prefers spending quality alone time with his girl as compared to being surrounded by a group of people.
Throughout his career, Miller has been extremely open when it comes to what he raps about. His ongoing struggles with mental health and depression are the central theme of the album. But Circles far from the new trend of Emo-Rap nowadays. Instead, this album offers more of a positive outlook on one's struggle with mental health.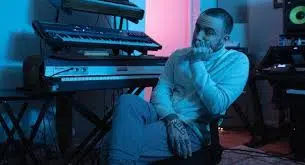 Miller Speaks Of Finding A Balance
When it comes down to it, though, Miller admits that he creates many of his problems. Even though he can accomplish so much and build things up, he inevitability goes to break them down. This album features a constant theme of a back and forth with happiness.
He knows he can be dramatic or too down on himself and the world. But when it comes down to it, he seems to say that he knows it's all going to get better. Miller realizes that this is just a day to day thing that he must deal with and handle. One only has to appreciate the good things in life, keep a confident mindset, and stay high in spirits. You'll inevitably run into some issues, but that's just life. Even though this review might make the album seem like a bit of a bummer, there are still definitely many lines showcasing Miller's classic demeanor of confidence. He speaks of living life the way he sees fit and doesn't care who it offends.
Thoughts
Overall this was a great album. It's odd to realize that Mac Miller has passed away when listening to his music and feeling such a good vibe or connection. But when it comes down to it, Circlesis a unique and fresh continuation of what Mac Miller's musical career was further becoming.
What do you guys think, though?
What are some of your favorite songs from this album? And what do you think of Miller's further progression within music? And was this a quality Mac Millerreview?