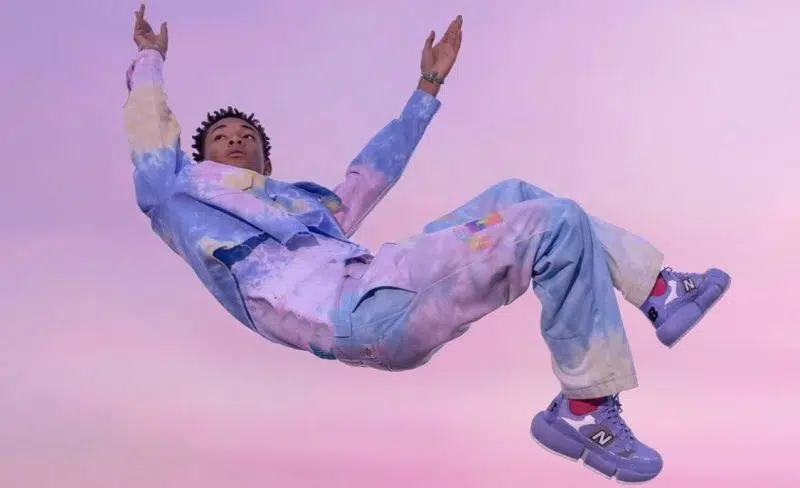 The environmentally conscious, rapper and entrepreneur, Jaden Smith is making fashion news again but this time for his recycled waste sneaker line with New Balance. Smith's line is called Vision Racers and is notable for it's clunky colorful vibe but also it's use of factory waste cut offs, into a new usable material, in it's production. Because of this, Smith's sneakers are highly collectible because no shoe is alike. Jaden Smith is no stranger to environmental sustainability. Smith also practices this in his diet, and in his business ventures such as Just Water. 
Visionary, Earth Day Sneakers
New Balance had this to say about the sneaker line, "From a product standpoint, sustainability always appears to be at the forefront of his design intentions." So, when Earth Day, is around the corner, Jaden Smith knew he'd have to make a statement piece wth his latest design. Jaden Smith's newly unveiled New Balance Vision Racer ReWorked to celebrate Earth Day 2021.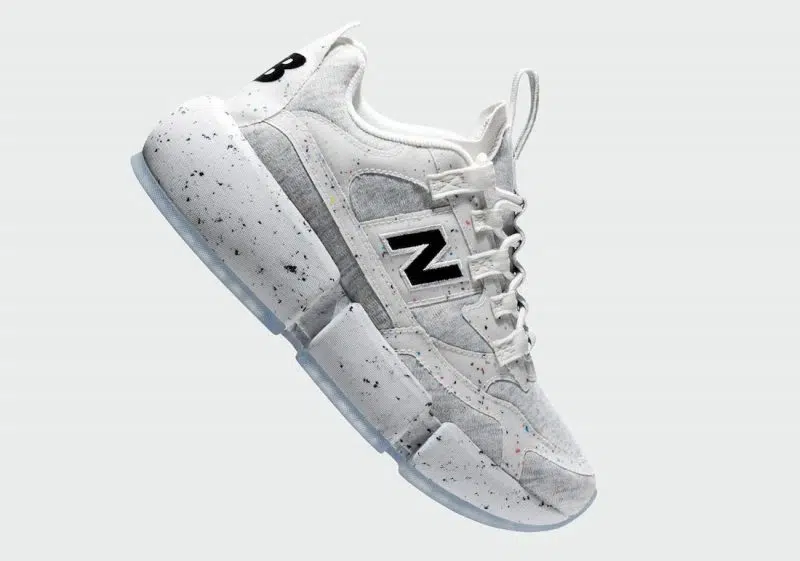 Materials for Earth Day Sneakers
Unlike his previously launched releases, like the "Hi-Vis Yellow" and "Wavy White" options, his Earth Day sneaker is more subdued in colors but not style. He manages to take a casual plain sneaker and upgrade the appeal. The sneaker is produced with 74% SPINNEX fiber, 16% recycled polyester and 10% Spandex that is covered in a light gray jersey knit. White overlays appear along the mid-foot, toe boxes and heels are primarily done up in white.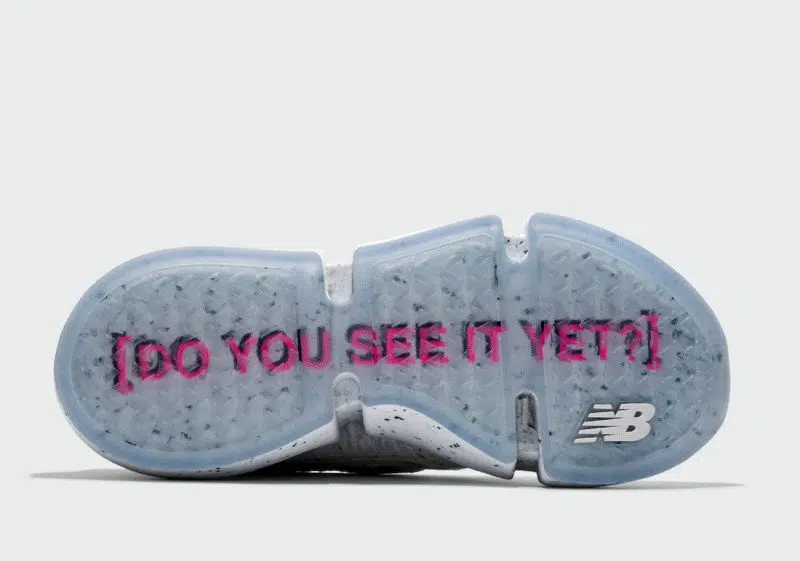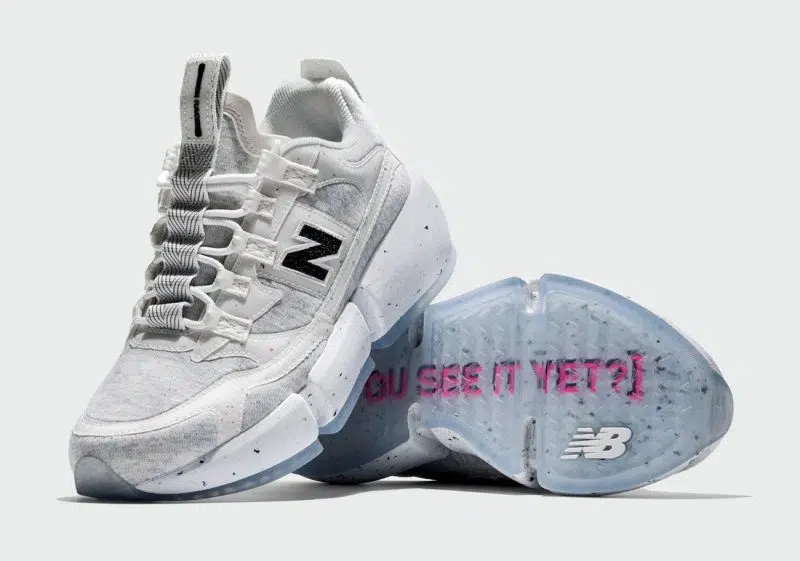 "Vision"ary Aesthetic
The sneaker stands out with it's soft fleece like jersey knit material interlaced with a white smooth grounding. Finishing touches are done with multi-colored speckles throughout and black speckles below. New Balance branding along the side panels and on the heel counters stand out in  dark black. Stacked beneath his trademark lght gray blue translucent outsole are the words "[DO YOU SEE IT YET?]" as opposed to the usual Vision Racer branding in pink and black. Jaden has a Vision for the world ahead of us, and we dig it. 
These Chunky Earth Day sneaker classics are a hit, for sure. The soft color and materials make it perfect to compliment any look including sweatpants or casual dressy attire. The speckle gives it enough pizazz to ensure that these sneaks don't get lost as it elevates the sneaker providing that much needed pop.
Release date and price point
The Earth day sneaker merges classic New Balance design with Jaden's unique, fashion-forward aesthetic. This makes the sneaker a sure-win hit for sneakerheads and collectors alike. The Special Edition Earth Day sneakers are set to release on April 22, 2021 (Earth Day) for $150 USD. Just goes to show, that you can be fashion and environmental conscious and create a stand out statement alongside a great sneaker. Well done, Jaden Smith.