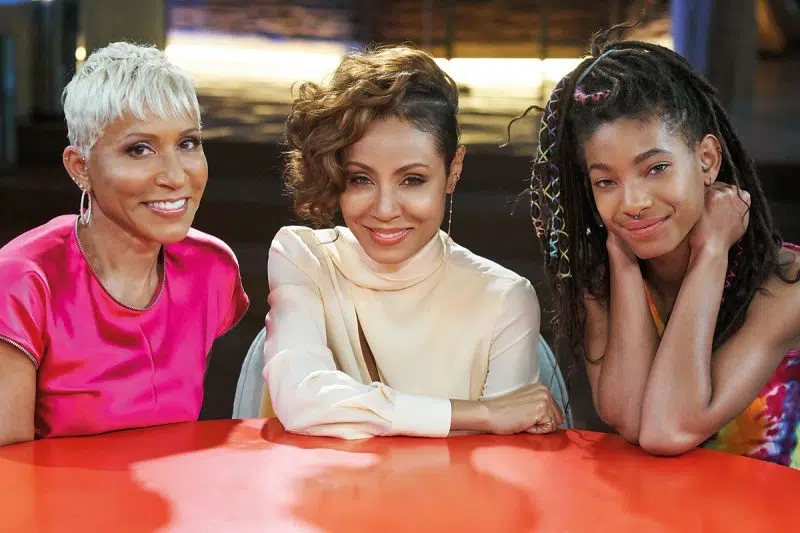 Jada Pinkett-Smith, 50, and co-host and guest star, Gwyneth Paltrow, 49, discuss the difficulties of maintaining a healthy sex life. The former actress is the host of Red Table Talk alongside her mother, Adrienne Banfield-Norris, 68, and daughter Willow, 20. The trio creates a platform that is a safe place for women to bare their vulnerabilities.
The Talk Show, Will, and Jada
Not only does Jada listen to other women's ordeals and in-and-outs with men, she shares hers too. As a matter of fact, she shares enough to be a lot on the show about her personal life. She candidly confesses to her infidelities and sex life with The Red Table Talk. 
For example, the infamous entanglement with August Alsina. According to Wion News, August and Jada began dating for a short period in 2015, during a separation from Will. The singer eventually broke his silence about the affair in 2020, confirming speculations.
Jada Pinkett Smith is the pained artists' mentor, as she was introduced to him by her son Jaden. Pinkett-Smith mentors Alsina as he overcomes drug addiction and trauma, offering him life advice.
Somewhere along the way, August and Jake became romantically involved.
Just a year before in 2014, rumors spread claiming that a lawsuit for the rupturing of a woman's cervix surfaced, according to zHipHipCleveland.
Will And Jada
For one thing, Will and Jada, Hollywood's longtime favorite couple, is constantly in the media for Jada's liberalism when it comes to her relationship with Will. On the other hand, Will still seems to be head over heels in love with Pinkett-Smith.
Guest star Paltrow listened to Jada as she spoke about her history with Will Smith. In an E OLINE! interview, she explains that her marriage spans over 23 years, so uncomfortable conversations are essential.
"I think it's common to expect your partner to understand what you need, especially in terms of intimacy," she said. "But relying on the assumption that they should automatically know can lead to misunderstandings. Communication is key."
Later on, Paltrow, promoting her Netflix series, Sex, Love and Goop, while cosigning with the statement: "Isn't it weird, though? It's like someone doesn't read your mind, we feel crushed."
Jada is once again under scrutiny for her sex-related sentiments.