Meet Supermodel Bella Hadid!
As the world has seen her grow into a sophisticated supermodel, Bella Hadid is changing the game in the fashion industry. At times, she was frequently seen as Gigi Hadid's younger sister and the daughter of Yolanda Hadid. However, fans have fallen in love with the model through the years.
Being the middle child of three and all in the fashion world, Hadid has had to make her way to the top. For what many consider her now, one of fashion's most fabulous supermodels. The 25-year-old star was introduced to the runway in 2014 for New York Fashion Week. Shortly after, she landed a modeling gig with Desigual and received her first solo magazine cover with Jalouse.
In 2016, Hadid was awarded "Model of the Year," and she has been nonstop since then. Hadid has proven her spot in the fashion industry, from being on 12 Vogue magazine covers to modeling for top designers such as Off-White, Dior, Prada, and many more.
Hadid was on "the Forbes 2017 list" of highest-paid models, making $6 million. Recently, her net worth is to be around $25 million. While Hadid continues to push and work her best, the supermodel has shown she can make anything look on point.
Let's take a look at Bella Hadid's Hottest looks of all time!
Victoria's Secret Party 2017
Hadid is in her skin-tight figure-hugging red corset dress with a slit on the side to the Victoria's Secret viewing party in NYC. Fans say this outfit deserves 100 chili peppers and ultimately one of her most iconic looks.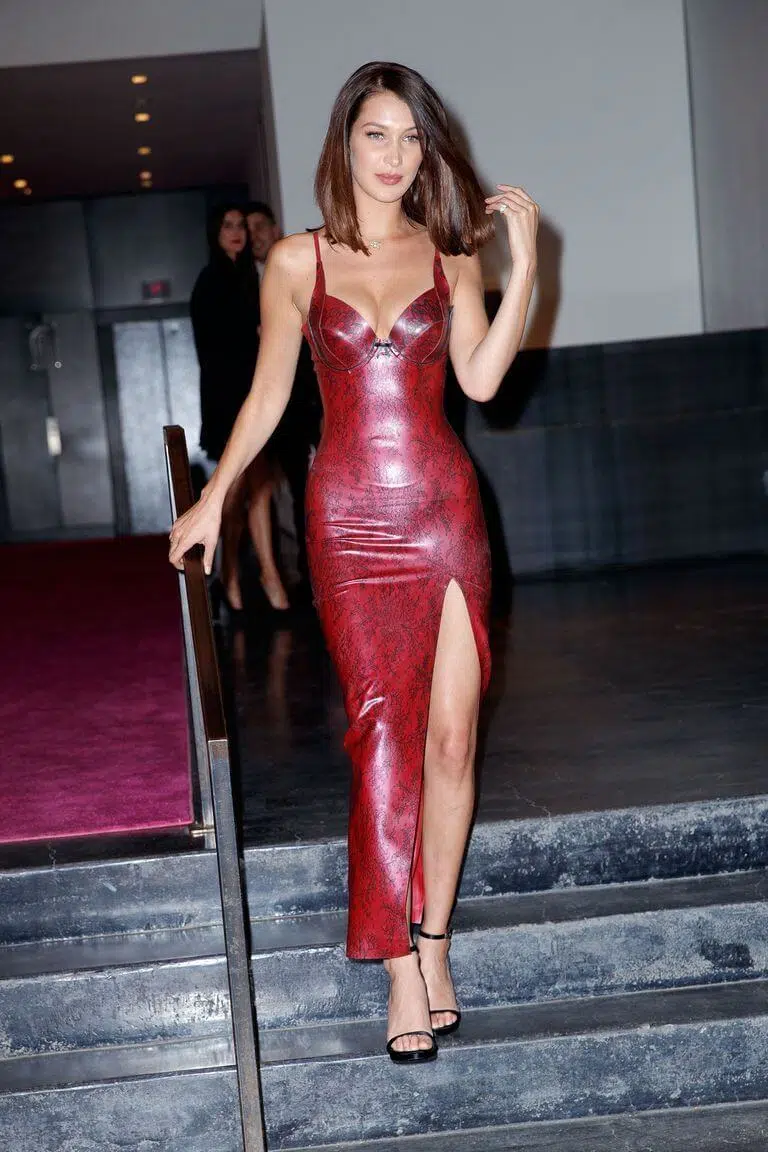 Amfar Gala Cannes 2017
And can we get a little commotion for the dress? Hadid was wearing a silk-champagne low-cut dress with a high-cut slit. It was a jaw-dropping moment for the supermodel.

Dior Men's Fashion Show 2018
In 2018, Hadid wore a coordinated suit to the Dior men's fashion show and completed the look with sneakers. A combination of elegance and individuality that few can rival.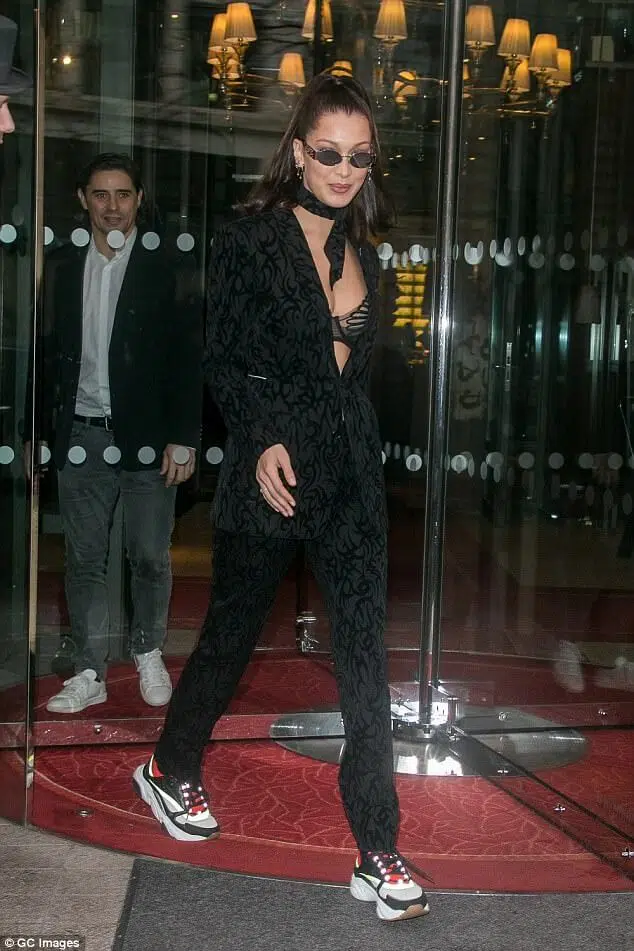 Bringing Back All Denim 2019
As one knows, denim can never go wrong, and Hadid is in all denim. She is wearing a denim button-up over the denim corset that matches her denim jeans. With her gold-hoop earrings and brown lace-up combat boots.
A Day Out In The NYC 2019
Hadid brought a little mix of the 90s in her inspired all-brown leather look. While on her way to a lunch date in New York City in an all brown leather outfit from the blazer, corset top, and pants. The pairing of the sunglasses added to the look and was an eye turner.
Bella Hadid x Savage Fenty 2020
Last year in 2020, Rihanna released her Savage Fenty show Volume 2 on Amazon Video, and Bella Hadid made an appearance. Not afraid of showing her skin, Hadid is shown in all-black lingerie that is elegant yet sexy to the eye.
Off-White Fall/Winter Collection 2021/2022
Hadid looks do not pass anyone by, and this Off-White Fall/Winter Collection 2021/2022 hit. The supermodel is walking the runway in a blue mini dress with matching knee-high boots, and although it may sound simple, it was a bold way to start the show.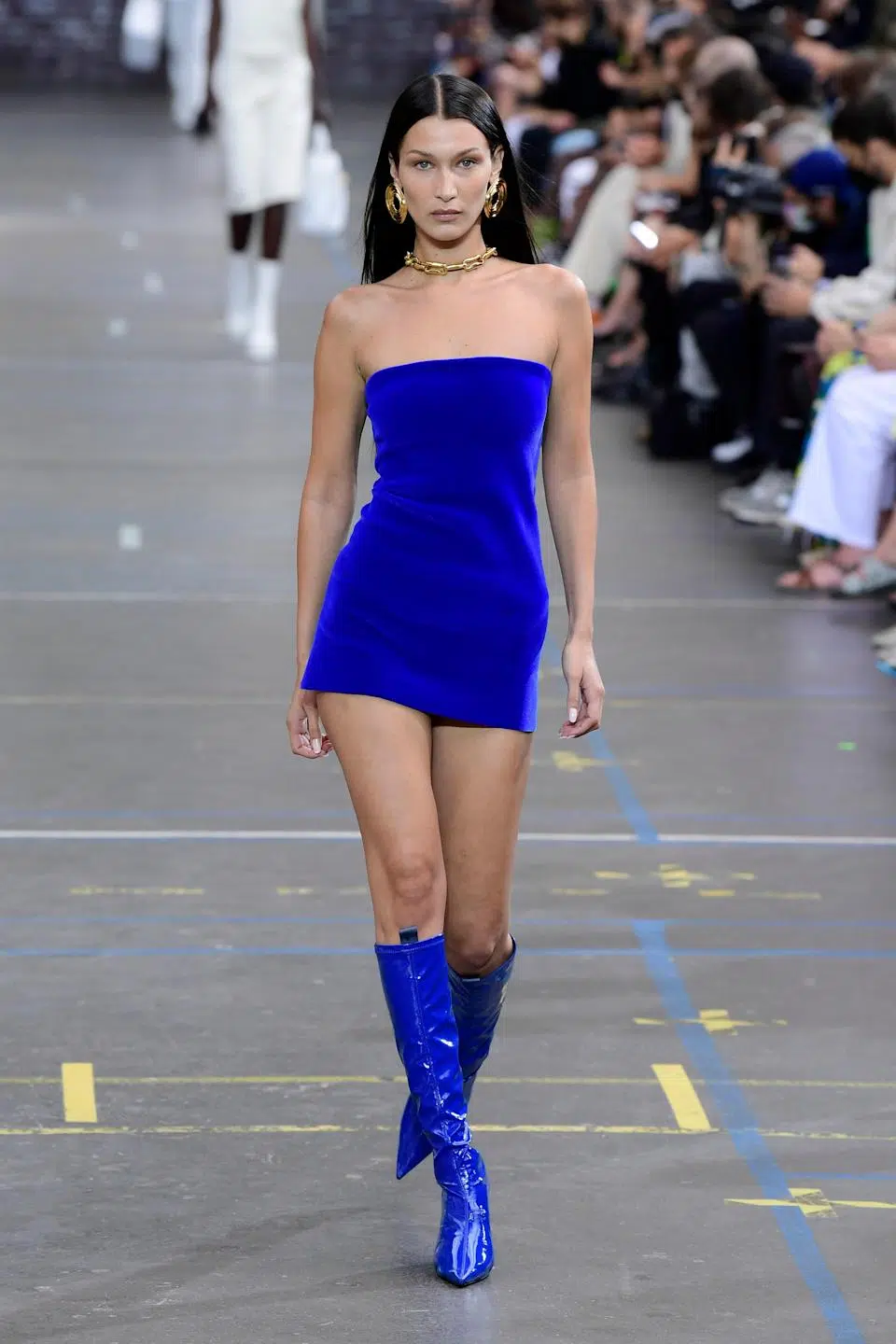 Bella Hadid In Her Nike Attire 2021 
Many know her for dressing to the occasion and looking her best. However, the model was spotted on a day out in New York, and let's just say, her outfit is a hit. Hadid wears a loose-fit blue jacket by Nike and sweats in the same color. Both comfortable and trendy.
Schiaparelli Haute Couture Fall Winter 2021/2022
Last but not least and one of her hottest outfits. The model wore a black fitting gown with an open cut for her chest, covered by a gold-dipped bronchi passageway of the lungs, studded with rhinestones.