Christmas has come and gone too quickly this year. Luckily, celebrities are still keeping the holiday joy going by posting sweet family pics of themselves on Christmas day. Rapper Rick Ross even shared a cute family Christmas photo over social media that has everyone talking. Everyone in the photo seems to have taken part in the Christmas festivities all except the rapper himself, whose more worried about his "street cred."
Too Much Of A Cool Cat
On the holidays, families can get a bit whimsical and silly when it comes to taking group photos. Though, Rick Ross seems too much of cool cat to take fun and silly family photos on Christmas day. The 44-year-old took to Instagram on Christmas Day to post a cute pic of his family dressed in holiday festive onesies. Unfortunately, the "Aston Martin" rapper opted out of wearing a onesie. Instead, Rick Ross sported a purple sports shirt and shorts, with the matching cap and Nike kicks to match. Rozay gives a bright smile while holding up a glass of wine to the camera like he's making a toast. It's unclear why Rick Ross opted out of the onesie-photo requirement, but we assume it has a lot to do with his "street cred." The man has a reputation to keep after all.
The Rap Game Gives Him "Street Cred"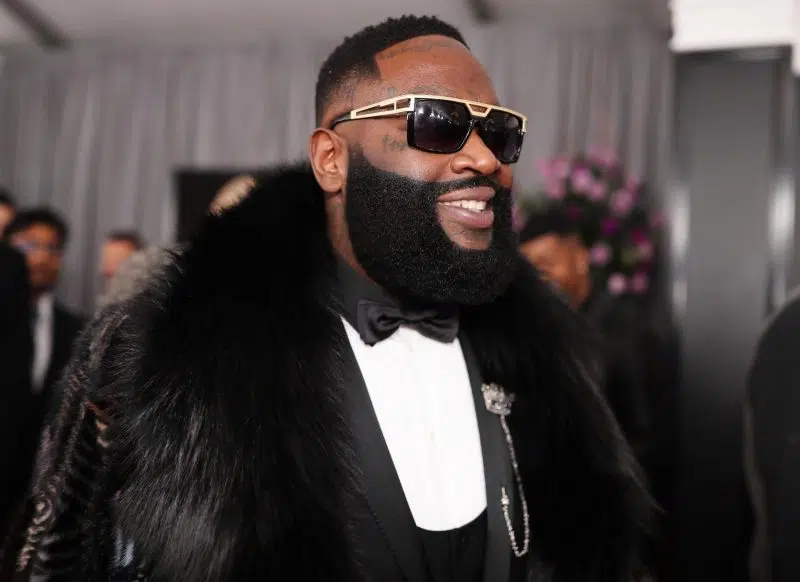 When it comes to Rick Ross, the rapper knows how to stay at the top of his game. With his holiday family pic, the rapper especially made it apparent that he's loving life at the top. Honestly, just look at that intricate white, winding staircase and marvelous red carpet in the photo. Cleary the 44-year-old is living large—no pun intended. The rapper is an amazing platinum, record-selling artists. He even took the 28th spot on HotNewHipHip's list of 40 hottest hip-hop songs of 2020 with his summer track "Pinned To The Cross." Rick Ross's "street cred" is well-deserved by the rap game. He could afford to loosen up this holiday season and run these streets at the same time.