Brees Stays with Saints
Drew Brees resigns with Saints. The Quarterback took to his Instagram to post about his return to the New Orleans Saints. He has competed at a high level in the NFL for 19 seasons. His return will mark his 15th with the Saints.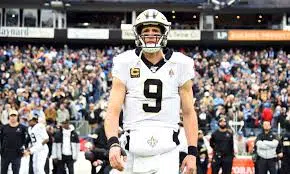 Brees Continues to Play at High Level
At 41 years old, he remains one of the NFL's best QBs. Brees leads the league in completion percentage and boasts his highest career touchdown percentage, a common occurrence for him.
In 2018, he set an NFL record for completion percentage. Despite their playoff loss last season, Brees and the Saints have a strong roster on both offense and defense, ensuring a solid season and playoff appearance.
Final Thoughts:
Exciting to see this legendary QB return for another high-caliber NFL season. Share your thoughts! Are you thrilled about Drew Brees rejoining the Saints? Do you expect his excellent play to continue, and how far do you think they will go in the playoffs?