Bryce Harper, All Stars despite injuries & playing appearance
Bryce Harper was voted by fans as All Stars to represent the Philadelphia Phillies. He didn't make official roster but he is listed as a runner up. However, it brings up many concerns with Bryce Harper that hasn't dappened Phillies love for the outfield. This year alone, he has suffered many injuries and ailments that has reduced appearances. Despite, many injuries including back issues, the 28 year old, Bryce Harper remains a Philly favorite.
Bryce Harper Plagued by Injuries in 2021 Season
Just in April, Harper began to suffer back pain flares that resulted in many missed games and a struggling Phillies team. Additionally, his back pain is a real concern, especially in long term investment. Because, back pain is an issue with hitting and reduces the odds that a player of his caliber can hit those power bombs fans are used to.
Mans just hit this ball to the MOON. #RingTheBell pic.twitter.com/k89SHVF2Ln

— Philadelphia Phillies (@Phillies) July 3, 2021
Remember, Phillies have a 13 year contract with Harper for which they paid him 330 million. Yet, his performance has still remained to be seen to determine if lonegevity is there for the young star. Phillies just may not get their money worth if he continues to be plagued with injuries. But, for now, they will take what they can get due to struggles overall with the team.
Bryce Harper's rolling xwOBA is down 195 points over his last 100 plate appearances, the biggest drop in baseball.

He WAS at an unsustainable .516 over his previous 100 PAs, but it's still jarring to see his name next to such a significant dip.#RingTheBell

— Mike Maher (@mikeMaher) June 16, 2021
Late May and early June, Harper was out yet again for two weeks. But, this time because he was hit-by-pitch in the face and wrist continued to bother him. Then, June 23, he suffered a calf injury from a bad bouncing, Jacob Degrom pitch. Harper played a total of 59 games but missed approximately over 20 games due to varying injuries. That is just something we can't have from our best player. Below, his stats tell the picture.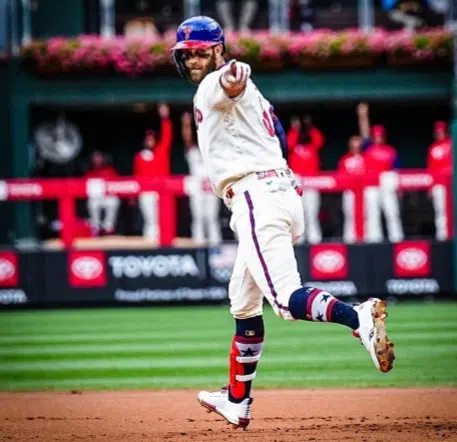 Year       |     AB |      R |      H |      HR |      RBI |      SB |      AVG |      OBP |      OPS