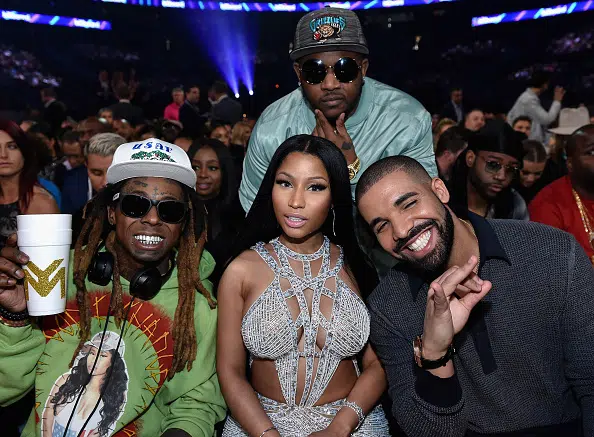 The rap game hit a surprising curve in 2007 when Nicki Minaj hit the scene. The once mixtape artist changed typical female rapping into an art. Discovered by Lil Wayne, the bodacious rapper gave birth to her Barbies and turned everyone's hair pink by 2009.
Just recently, Lil Wayne celebrated his 39th birthday on September 29th with other Young Money artists like Mack Maine and Drake. Mack Maine posted a picture including other partygoers hovering around the birthday boy as he puffs on a cigar.
Who is Young Money?
Young Money, a subsidiary of Cash Money, founded by Dwayne Michael Carter Jr, or as everyone knows him as "Lil Tunechi". In 2005, the A Milli rapper gathered a dream team including Nicki Minaj, Mack Maine, Tyga, Drake, and other artists. The Dream team produced a group project titled We Are Young Money in 2009.
Featuring Lloyd, Birdman, Gucci Mane and Nate Bailey, the album appeared on the total of 20 charts, according to Top40-Charts. Unfortunately, the group disbanded going to their own individual endeavors over the next few years.
Besides claiming to be the GOAT female rapper, the now Mrs. Petty keeps herself busy with Twitter, entertaining her fans with candid blurts and independent opinions.
Why Was Nick Not Invited To The Party?
For one thing, Nicki knows how to write her raps, and secondly, the insatiable Sagittarius knows how to get the crowd going.
Of course we all know Nicki to be somewhat candid; however, her stance on the Covid-19 vaccine stirred so much commotion that she is being excluded from more and more events.
The Tweet That Stirred It All
Undoubtedly, the "Your Love" rapper revealed to Twitter that she was not in favor of the shot. Supposedly, the vaccine made her brother's friend in Trinidad sterile. Scientists and doctors in America and Trinidad both took to Twitter to denounce the comment.
According to Sandra Rose, Rhianna dropped Nicki from the Savage Fenty Show as a result of her comments.
Wayne's Party
As a matter of fact, Wayne's birthday party seems to be on the same note. After seeing the post of friends gathered on Twitter, Nicki took the liberty to speak on it.
Under Mack Maine's post, she commented, "I had so much fun". Mack responded with a "It was last minute". Wayne's daughter, Reginae, concurred saying that she's also a FOMO victim all the time by the group.
Mack continued on to say that the team will have to "run it back" for the pop star. Nicki still wished the man who made it all happen for her a happy birthday in a sweet post. She posted the first picture the two took together, according to Complex.
"Happy birthday to my everything."
Nonetheless, it is unclear whether she was uninvited due to her Covid-19 vaccine drama.