Last night's 62nd annual Grammy Awards ceremony was an emotional one following the sudden death of Kobe Bryant and reflecting on the tragic murder of legendary artist Nipsey Hussle.
During a pre-televised segment, Nipsey's family graciously accepted his award for best rap performance for 'Racks in the Middle,' featuring Roddy Ricch and Hit-Boy. His grandmother heartfully thanked everyone for the overwhelming love she always felt for him. The track was also nominated for best rap song but lost to 'A Lot' by 21 Savage and J. Cole.
Nipsey, a Los Angeles native, was shot and killed outside his South L.A. clothing store last March. The attack wounded two others. Police eventually arrested and charged Eric Holder with murder.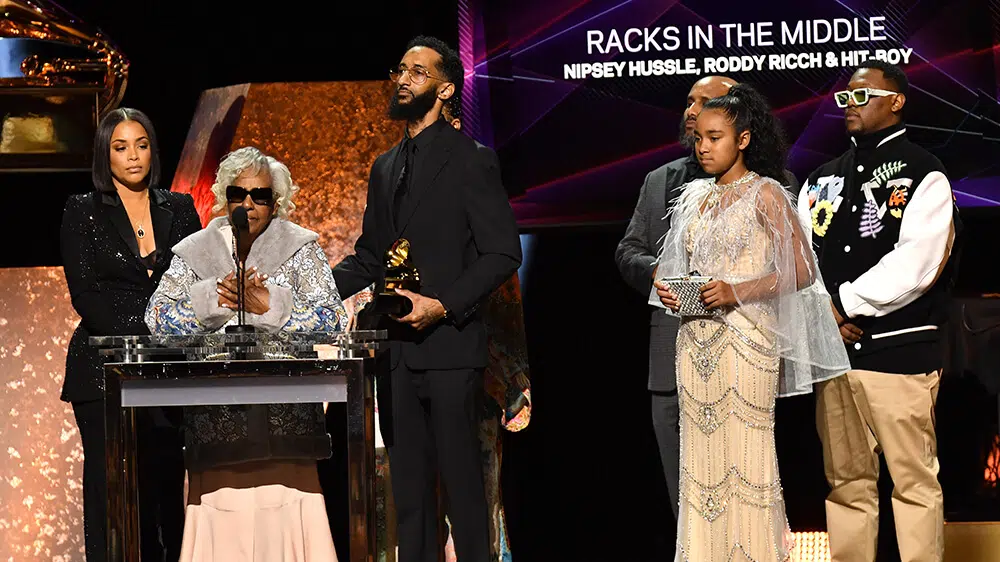 "I wanted to thank all of you for showing all the love that I have felt for him all of his life, and will always live in my heart," his grandmother said. "So thank you, thank you, thank you."
The Racks in the Middle rapper was a widely praised community figure and well-known for his philanthropic tendencies. The news of his death completely shook the hip-hop world to its core, almost one year ago.
A 
tribute performance
 set to honor the late Nipsey Hussle during the Sunday night ceremony was hastily modified following news of Kobe Bryant's death earlier that morning.
Massive portraits of Kobe and Nipsey appeared larger than life on a back-drop screen in the Staples Center. Meek Mill opened the tribute in an emotional rap straight to Nipsey, piano in the background.
Currently, the best-selling artist in the country and longtime friend of Nipsey, Roddy Ricch, joined Meek to perform 'Letter to Nipsey.' John Legend and DJ Khalid made their way to the stage for a rendition for Khalid's Higher, featuring Nipsey and Legend.
Everyone watching was certainly feeling chills.
As the music faded, Khalid chanted, "Long live Nip! Long live Kobe!", "The marathon continues!" he shouted as the crowd rose to thunderous applause.
What are your thoughts on last night's Grammy Awards? Are you a Kobe fan, a Nipsey fan?
Lastly, let us know your thoughts in the comments!