Justin Bieber is continuing to have open discussions on social media about his mental health status.
Justin Bieber is known to always keep his fans up to date on his emotional struggles. The singer posted on Instagram to his 111 million followers:
"Don't stop fighting the battle has already won.. fight for what you love and who you love don't let fear and anxiety win..god has not given us a spirit of fear but of power love and of a sound mind!" Bieber, who has been open about his struggles with depression, wrote. "I haven't believed the truth about myself, I haven't believed I am loved, I haven't believed I am forgiven, it's a hard thing for me to wrap my head around. I hang my head in shame and I wallow in sadness about the people who have betrayed me."
He continued:
"Jesus has given me freedom and the pursuit of getting to know his character is never-ending. Gods character never changes he is the same yesterday now and forever. He is always good!. I won't be afraid to be vulnerable before him.. his power is made strong in our weakness. God isn't afraid of your pain and your brokenness he actually welcomes it."
He then quoted Bible scripture, writing, "Come to me all who are weary and burdened and I will give you rest! these are words from Jesus! There is hope and it's in him.!! He loves and cares for you! For God so loved the world that he gave his only son so that whoever believes him won't die but have eternal life! You are that whoever and he accepts you as you are!! He loves and forgives you and welcomes you into his arms every time you mess He is a perfect and loving God who adores you!"
Bieber also shared an image of himself with Ed Sheeran. Teasing their upcoming collaboration and noting that he is "crippled with anxiety."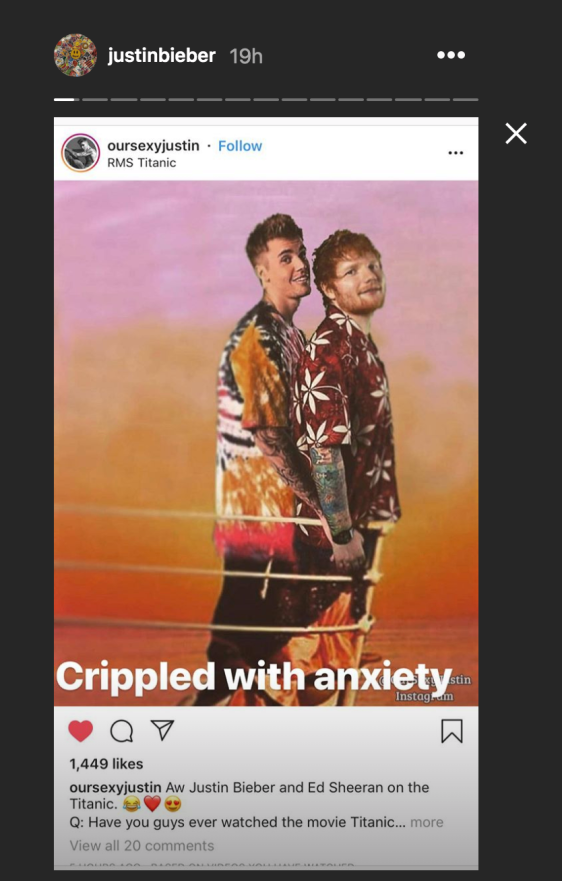 It's not the first time Bieber has taken to social media to express his emotional struggles. Last month, he asked fans to pray for him. In March, the singer announced he was taking a break from music to repair some "deep-rooted issues."  He then shared a selfie from a visit to his therapist, saying, "It's cool to have a healthy mind and emotions."
Thoughts? I personally feel that I adore the way Justin Bieber is speaking up about mental health. Mental health is a taboo topic that is not spoken about enough. I applaud Justin.
Leave your comments below!
Source: Page Six
Featured Image Credit: Billboard/ Page Six