Some artists fear putting out music that drifts from the standard norm, especially early on in their careers. Though, the brave few that do, end up making a name for themselves eventually. Bajan singer and multi-instrumentalist Ayoni, isn't afraid of going against the grain. In fact, the Barbados native remains a dynamic and outspoken voice in the ever-changing world of music. 
Born as both a black woman and immigrant, moving from Singapore, Indonesia and now living in L.A, Ayoni's music is heavily influenced by her experiences. With a little bit of pop, mixed with metallic production and R&B, Ayoni combines all three genres to craft creative tracks. Though, not only does she create appealing sounds, but also touches on topics that matter in our society. Furthermore, her debut record Iridescent chronicled Ayoni's journey through self-discovery and acceptance.
Her fanbase grew especially after dropping the powerful track "Unmoved (A Black Woman Truth)" that paid homage to the Black Lives Movement. The 2020 single alone showcased Ayoni as an artist who's fearless and courageous enough to expose raw truths about our society.
Ayoni's name grows with each new record she drops. Additionally, she continues to rack up millions of streams and views. Not to mention, she's already received several co-signs from the likes of V Magazines, Ones To Watch and Essence .
The singer's presence continues to be felt by the music industry, especially with the upcoming release of her EP The Vision . While fans have to wait until August for the record to drop, they can tune into the pre-released singles. Having already dropped the stunning track "You Said I Love You Too Soon", Ayoni followed up with "Before I prosper" shortly after. The track finds Ayoni in her most earnest, reflective mindset.
Ayoni Voice Shines Through "Before I Prosper"
The Barbados singer definitely has plenty to offer as an artist. Specifically, Ayoni's powerhouse voice remains a staple throughout every track, especially in "You Said I Love You Too Soon."
Though, her newest single "Before I Prosper" poses as an equal competitor, letting her voice shine through every facet of the song. Backed by unique sounds, mixing electro-pop with soul, Ayoni's voice remains at the focal point of the song. More than that, listeners can hear the heaviness of Ayoni's words, filled with rich emotion. In some ways, the song transitions from one state of mind to another. By this point in the song, Ayoni becomes more reflective, lost in what sounds like her own mind and thoughts. It's no wonder that Ayoni's transformative style sets her apart from other artists.
Follow Ayoni's Musical Journey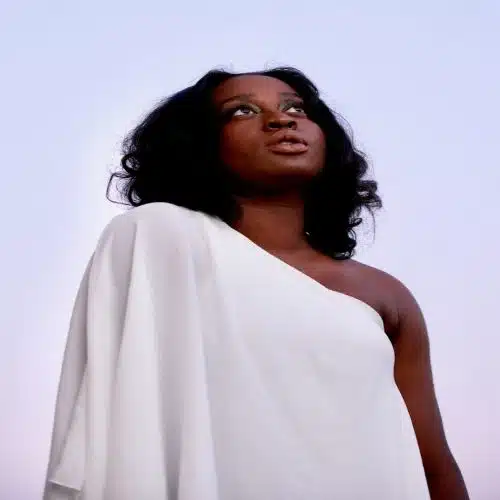 Clearly brimming with raw talent and a killer voice, Ayoni's too good of an artist to pass up . This year alone, the electro-pop singer will continue her musical journey with performances in several locations. Furthermore, she'll perform at the School Night in Los Angeles on July 11th.
Additionally, in September, Ayoni will give a live concert at The Big Climate Thing, where she'll be joined by artists like Haim and The Roots. Moreover, the three-day concert series aims to raise awareness and spur solutions to climate change issues. Of course, Ayoni's purpose behind her music is to inspire change as well, in more ways than one. Be sure to catch up on the Ayoni's music journey.
LINKS:
APPLE MUSIC // FACEBOOK // INSTAGRAM // SPOTIFY // TWITTER // YOUTUBE